Director Siddharth Anand, who made War, has always shown an inclination towards Hollywood right from his first movie. Salaam Namaste was seemingly inspired by Hugh Grant's Nine-Month Road (the climax definitely is). His sophomore effort, Ta Ra Rum Pam, was similar to a few movies like Days of Thunder and Talladega Nights: The Ballad of Ricky Bobby. Ranbir Kapoor's first hit, Bachna Ae Haseeno, was also directed by Anand, and seemed original. But we cannot say the same about his followup, Anjaana Anjaani that was copied from a Dutch film, Blind. War: 5 Big Twists in Hrithik Roshan and Tiger Shroff's Action Thriller That Made Our Jaws Drop (SPOILER ALERT).
Siddharth Anand's biggest hit was Bang Bang! which was an official remake of Tom Cruise's Knight and Day. His hopefully upcoming movie Rambo, is, of course, the official remake of Sylvester Stallone's classic, First Blood. Both the lead stars of Bang Bang! and Rambo remake, Hrithik Roshan and Tiger Shroff respectively, star in Siddharth Anand's new film, that also seems to be a hotch-potch of several Hollywood films, right from the action scenes to its premise and even the big twist (SPOILER ALERT).
In this special feature, we try to identify most of the Hollywood films that we found War to be familiar with.
xXx: Return of Xander Cage
This silly entertaining action film, featuring Vin Diesel in the lead, and marking Deepika Padukone's debut in Hollywood, has inspired not one but two major action sequences in War. War: Impressed by Tiger Shroff's Single-Take Fight Scene? Then Don't Forget to Watch Similar Scenes Featuring Sanjay Dutt, Sidharth Malhotra (Video).
The first involves Hrithik's plane jacking scene that (ruined by obvious use of green screens) is inspired by the below climactic stunt scene, involving Diesel and Donnie Yen.
The other scene from War had Hrithik and Tiger's character gun down unknown assailants in stylishly choreographed tandem.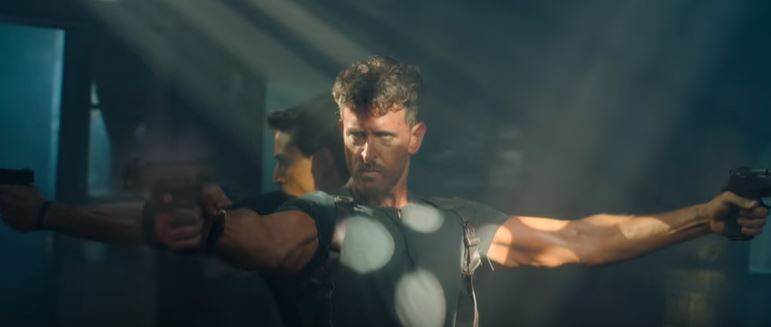 Which is an idea we have seen in quite a few Hollywood movies, including this scene from xXx: Return of Xander Cage, featuring Deepika Padukone and Ruby Rose.
Now ask yourselves, who looked cooler - Hrithik-Tiger or Deepika-Ruby?
The Take
In War, there is a terrific rooftop chase set in Marrakesh, that shows off Tiger Shroff's parkour skills.
The way the whole sequence is shot did take us back to this scene from The Take, involving Idris Elba and Richard Madden.
You can also find a similar scene in Dwayne Johnson and Vin Diesel's Fast Five too.
The Fate of the Furious
Many have picked up similarity in the trailer itself, when Hrithik and Tiger zoom around on the ice with their cars in the Arctic Circle. War: Ranking All the Action Scenes in Hrithik Roshan, Tiger Shroff's Film From Worst to Best (and Where It Is Inspired From) SPOILER ALERT!
Which seems to be a slicker but less illogical, lamely milder take on the below insane scene from the last Fast & Furious film.
Too bad, we didn't see Hrithik use his huge biceps to push a live nuke a la The Rock!
Athadu, Furious 7 & Batman V Superman
The climactic showdown between Hrithik and Tiger is set in a decrepit church. We have already pointed out before that it feels very similar to the climax of Mahesh Babu and Sonu Sood's Athadu.
...which itself seems inspired by John Woo's Hong Kong action saga, The Killer.
The brutal fight scene between Hrithik and Tiger also share some semblance to Jason Statham and Vin Diesel's fight scene in Furious 7.
As well as this popular scene from Batman V Superman.
Say what you want, but I feel the Hrithik and Tiger bash-up was way more cool than any of these scenes.
Mission: Impossible II & Mission: Impossible: Rogue Nation
The bike chase scene was one of the coolest scenes in War, and was slickly shot and edited too. Even if it bears similarity to two Mission: Impossible movies.
The scene where Hrithik Roshan rides out of flames is inspired from this below scene from MI - II.
And later, becomes very similar to this awesome sequence in Mission: Impossible - Rogue Nation.
For the action scenes, we can blame the semblance to the fact that War involved action directors from Hollywood, who have worked in some of the above films.
But it is not just the action scenes that are 'inspired'.
War
Some of the film's crucial scenes including the twist and strangely, the title too, bears an uncanny resemblance to this average Jason Statham and Jet Li action thriller, that also involves plastic surgery!
As for the basic premise...
The November Man
The basic outline of this Pierce Brosnan has a veteran special services agent going rogue during a mission and his protege is tasked to catch him.
Did we miss out on any other scenes or movies that War seems to be inspired by? Share your thoughts in the comments section below