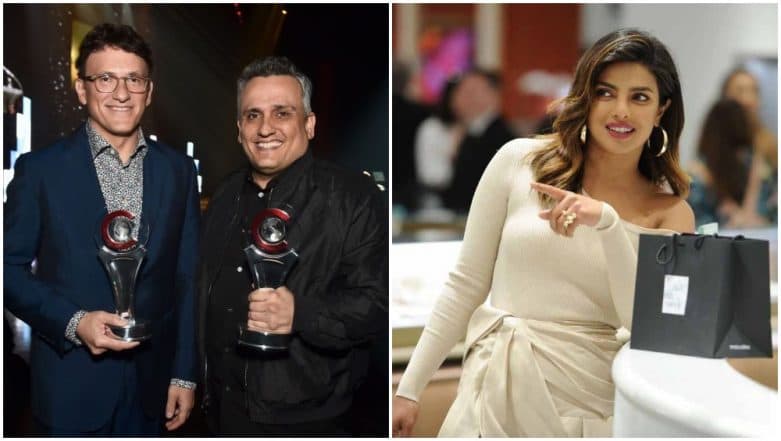 Before the release of Avengers: EndGame in India, Joe Russo, of the Russo Brothers, the directors of the film, had come to India to promote the movie. In his various media interactions, Joe Russo let out some very interesting tidbits about the movie, and the Marvel Cinematic Universe in general. And perhaps because he was in India, some of his answers also had a desi connotation. Like how he revealed that the climax of Avengers: Age of Ultron almost had a scene inspired by Rajinikanth's Enthiran. Or, that he loved the action scenes in Salman Khan's Dabangg. First on LatestLY! Avengers EndGame Director Joe Russo Reveals How Rajinikanth's Enthiran Almost Inspired The Climax of Age of Ultron.
The most interesting revelation that Joe Russo made that they were in talks with Priyanka Chopra for a project. He had said, "I'd love to work with Priyanka. I'm smiling only because we're potentially talking to her about something, I'm just not going to say what yet." At that time, it was wrongly interpreted that Priyanka might appear in a Marvel movie, though Joe hadn't specified anything about the studios. Priyanka Chopra is NOT in Talks with Marvel, Confirms Joe Russo; Says He has Approached Her for a Different Project.
So why are we talking about this now? Because there could be a chance that we might have that announcement about Priyanka soon enough. That is, if the deal has gone through.
After the super success of Avengers: Endgame, the Russo Brothers are now getting busy with their own productions, diverging from Marvel films. They are having their separate panel at the San Diego Comic-Con 2019 that is happening on July 20. San Diego Comic-Con 2019: From Marvel's Phase 4 Projects to the Russo Bros Panel, 7 Events We Are Too Excited About!
The Russo Brothers are expected to reveal more details about the movie they are involved in. This includes the about to release Chadwick Boseman's 21 Bridges and under-production Chris Hemsworth-starrer Dhaka. They will also be announcing their next directorial, Cherry that has Tom Holland in the lead. Will the Russo Brothers will also use the event to mention that project that they had approached Priyanka Chopra for? Let's wait and watch!