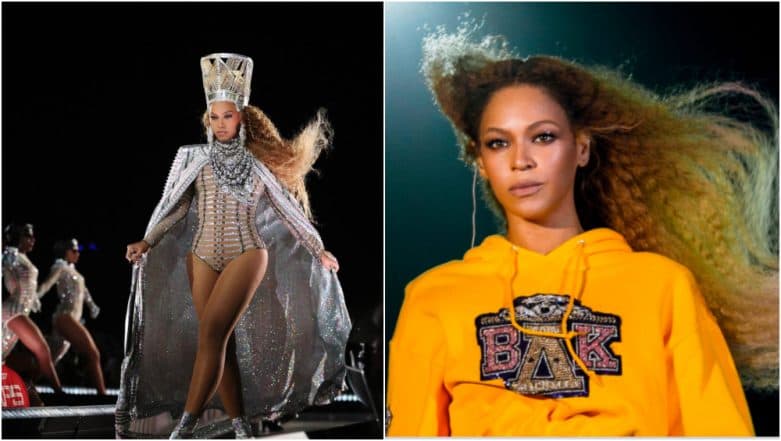 The wait is finally over! Beyonce's Netflix documentary titled 'Homecoming: A Film By Beyonce' is finally streaming on the OTT platform and fans have been going crazy over it. Written, directed and produced by the singer, the documentary was shot over eight months. It is a part documentary with a close behind-the-scenes look at two of the most iconic performances of the singer. It chronicles Beyonce's most famed weekend performances that made their mark in the history as she became the first black woman to headline the Coachella Valley Music and Arts Festival. While the Netflix documentary was dropped early on Wednesday, fans of the singer have been all over the social media, talking about it. NAACP Image Awards 2019 Full Winners List: Black Panther Wins Big, Beyonce Bags 'Entertainer of the Year'.
Many are naming Beyonce's documentary an important contribution to the Black culture. Her husband Jay-Z also makes an appearance in the documentary. The documentary features Beyonce's unforgettable Coachella 2018 performance which was a tribute to HBCUs and black Greek life in front of a predominantly white audience. Twitterati has been hailing the performer's work ethic and what makes her a legend. Here's looking at some of the Twitter reactions for the documentary. Beyonce Teams Up with Adidas for a Creative Partnership, Will Soon Launch a Signature Line.
Beyonce's strict diet has been a massive topic of discussion:
no bread, no carbs, no fish, no dairy, no sugar, no alcohol, no meat diet...how did she do it & train so hard. On another level. #BeyoncéHomecoming

— Rebecca Daly (@BeccaGinge) April 17, 2019
Coachella's historic performance:
this will go down as one of the most influential and iconic coachella perfomances of all time, she really did THAT #BeyoncéHomecoming

— 𝚊𝚕𝚎𝚡𝚊𝚗𝚍𝚎𝚛 (@aIexanderdow) April 17, 2019
Watch the trailer of Homecoming:
Praises for the singer pour in:
This doc further proves why Bey is the absolute best. She deserves to be loved and celebrated this much. She works and works and she earned everything she's ever gotten. Ever since we were kids, we knew she was the one.

Couldn't be prouder, really. @Beyonce 💖 #BeyoncéHomecoming

— BEYONCÉ LEGION (@Bey_Legion) April 17, 2019
Quoting the Queen of perfection:
"I personally selected each dancer. Every light. The material on the steps, the height of the pyramid, the shape of the pyramid. Every patch was hand sewn. Every tiny detail had an intention."

And people wonder why Beyoncé is the GOAT. #BeyoncéHomecoming

— Allie (@Fergyonce) April 17, 2019
She's so inspiring..
I'm so inspired by how much Bey had to overcome and how hard she worked and how she literally starved herself... She did that for us. She gave us her all. She did that for her craft. I will NEVER let any of you bitches compare her to your lazy faves again. #BeyonceHomecoming

— HAPPY BEYDAY 🐝 (@evrthingislove) April 17, 2019
And another one...
"As a Black woman, I used to feel like the world wanted me to stay in my little box. And Black women often feel underestimated. (...) It was no rules, and we were able to create a free, safe space, where none of us were marginalized." - Beyoncé#BeyoncéHomecoming pic.twitter.com/c3WbOtkP3U

— Beyoncé Visuals (@VISUALYONCE) April 17, 2019
The documentary is 2 hours and going by these Twitter reactions if you are a fan of the Crazy In Love singer, they could turn out to be the best two hours of your life. The documentary is now streaming on Netflix India.