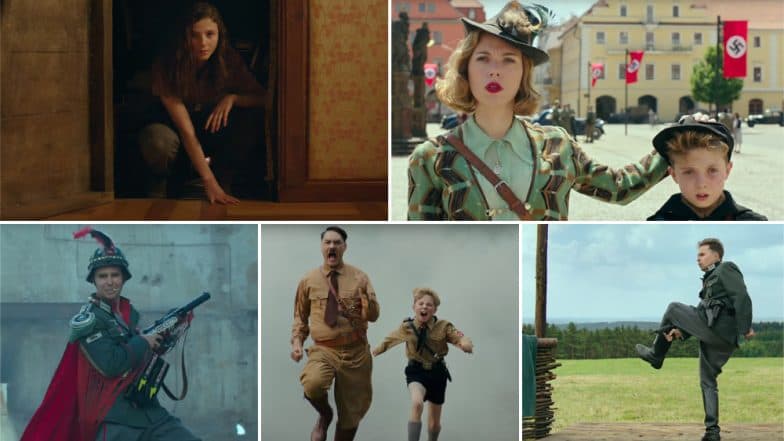 The trailer of Taika Waititi's Jojo Rabbit was released a few days ago, ahead of the film's Toronto International Film Festival 2019 premiere and it left everyone intrigued. Starring Scarlett Johannson, Taika Waititi and Roman Griffin Davis in lead roles, the film is a Nazi satire that captures the führer in a quirky avatar played by Waititi himself. Fans were excited to see the director get back to the Indie genre as opposed to his pop-culture famed Thor venture. Jojo Rabbit Trailer: Taika Waititi's Hitler Frolicks Around, Roman Griffin Davis' Young Nazi Questions His Blind Nationalism (Watch Video).
The film's premiere was held recently at TIFF 2019 and the first reactions to the film are now out. Jojo Rabbit revolves around the story of a 10-year-old young Nazi who begins to question his nationalism after bonding with a Jewish girl who is being hidden at his place by his mother. The early reviews of the film are mixed as critics debate over Waititi's Hitler comedy being repetitive when it comes to its genre. Here are the first reviews of the film.
The Guardian (2/5): Writing about Waititi's Hitler act and why it doesn't work, they said,"Tangentially similar ground was covered in 2008's The Boy in the Striped Pyjamas and last year's Where Hands Touch and in adapting Leunens' far darker novel Caging Skies, Waititi decided to add the imaginary element himself. It often feels like a way of distracting us from the truth, an elaborate smoke and mirrors act to fool us into believing Jojo Rabbit has something new to offer."
Games Radar (3/5): Calling the film emotional beyond its absurdity, they wrote, "Though the main thrust of this riotous romp is the gleefully absurd – universally sloppy German accents, anachronistic music and dialogue, repeated Heil Hitler jokes, kids chucking grenades – there's heart to be found amid the clowning. At surface level this is a Four Lions-approach in ridiculing extremist views – and it's hard not to giggle at Hitler talking like a petulant kid. But in between the belly laughs there's also a moving story about grief; of losing a sister, a daughter, a parent, a people."  Jojo Rabbit Teaser: Thor Ragnarok Fame Taika Waititi Turns Adolph Hitler in This Quirky Scarlett Johannson Comedy – Watch Video.
Variety: Calling the film a safe choice, they wrote, "If it were more honest, "Jojo Rabbit" would just be the Anne Frank-meets-and-befriends-and-converts-Nazi-boy "Afterschool Special" it is at heart. But that would be a movie that comes and goes, especially with Oscar voters. What gives "Jojo Rabbit" its "specialness," what makes it a kind of "Moonrise Kingdom" with swastikas and German Shepherd jokes, is that it lacks the courage of its own conventionality. It's a feel-good movie, all right, but one that uses the fake danger of defanged black comedy to leave us feeling good about the fact that we're above a feel-good movie."
Jojo Rabbit has been produced by Fox Searchlight and the film is all set to hit the screens worldwide on October 18.