17 years ago, on September 10, the world went to sleep not knowing that the next morning, everything would have changed. The world would remain as we knew it. On September 11, one of the deadliest terrorist attacks was carried out against New York.
Celebrities took to their social media to pay tribute to the victims of the tragedy. #911NeverForget is the hashtag that has been trending on all social media platforms. Priyanka Chopra and Amy Jackson also paid their tributes on their social media pages.
On this day may we always remember those we lost, and give thanks to those who responded... and always do. #911NeverForget
— John Krasinski (@johnkrasinski) September 11, 2018
17 years ago today I wrote this in my diary when I was in 4th grade. #NeverForget pic.twitter.com/dpFK32GueC

— CHARLIE PUTH (@charlieputh) September 11, 2018
On #September11th, I rushed to Sam's school to make sure he was safe. Then I went to give blood but was turned away because so many had already donated.

On this horrific day, we stood up and came together. I honor those we lost and the heroes who risked their lives. #NeverForget pic.twitter.com/hycHnpq5Xn

— Cynthia Nixon (@CynthiaNixon) September 11, 2018
I love you New York City.

— jimmy fallon (@jimmyfallon) September 11, 2018
It's 9/11... I actually saw the Towers fall from my apartment window that morning.... Respect to all the victims and people who lost loved ones... 🙏

— ICE T (@FINALLEVEL) September 11, 2018
Here is what Priyanka Chopra posted on her Instagram story: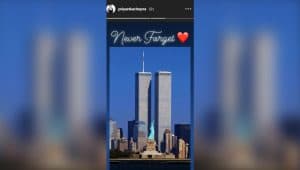 Our thoughts and prayers are with the victim of this attack. May the world never witness anything like that ever again.