'Desi Girl' Priyanka Chopra has caught the eye of firangi friends and how! The 35-year-old who is already in the news for purportedly dating American singer, Nick Jonas seems to have found an admirer in supermodel, Gigi Hadid. Yes, if you are a regular (read: addict) on Instagram just like me, the mutual admiration the two ladies share could not have escaped your eyes. Recently, Gigi Hadid posted a sweet note on Priyanka's latest Insta video 'Little Black Book of Fashion Secrets'. A few hours later, Bollywood actress returned the compliment by calling Gigi 'hot' in her Reebok campaign.
Much before the hot discussions over dating rumours with Nick Jonas, Priyanka's evolution of style has been on everyone's mind. The Quantico actress whose every high-profile appearance has found a place in the best-dressed list recently released her little book of fashion secrets. Priyanka shared a video on Instagram, which is her new miniseries with BAZAAR.com wherein she discusses tricks of her trade.
Fashion being an important part of her life and her career, as she tells about being photographed literally every day and has changeovers five times or even more. Now, this short video had behind-the-scenes shoots, discussions with her stylist Mimi Cuttrell, her great looks including the one from MET Gala 2018 as Priyanka gives a lowdown of what to expect from her secret little black book of style. Priyanka's stylish miniseries video got more than 1,800,000 views (at the time of publishing), and the most striking comment came from top model, Gigi Hadid. The 23-year-old commented, "love it 😊 so good x". If you think this is wow, wait till you see Priyanka's post for Hadid.
Gigi Hadid, who is the newest face of Reebok Classic as one of the new faces of its Always Classic Spring/Summer 2018 campaign posted a series of pictures on her Instagram handle. It had the young model pack a punch as the photo shoot takes place in a boxing ring. Looking stunner in her athleisure, Gigi Hadid indeed leaves a solid impression on all of us just like it did for Priyanka who left a comment reading, 'hot'!
Priyanka Chopra and Gigi Hadid's comments for each other!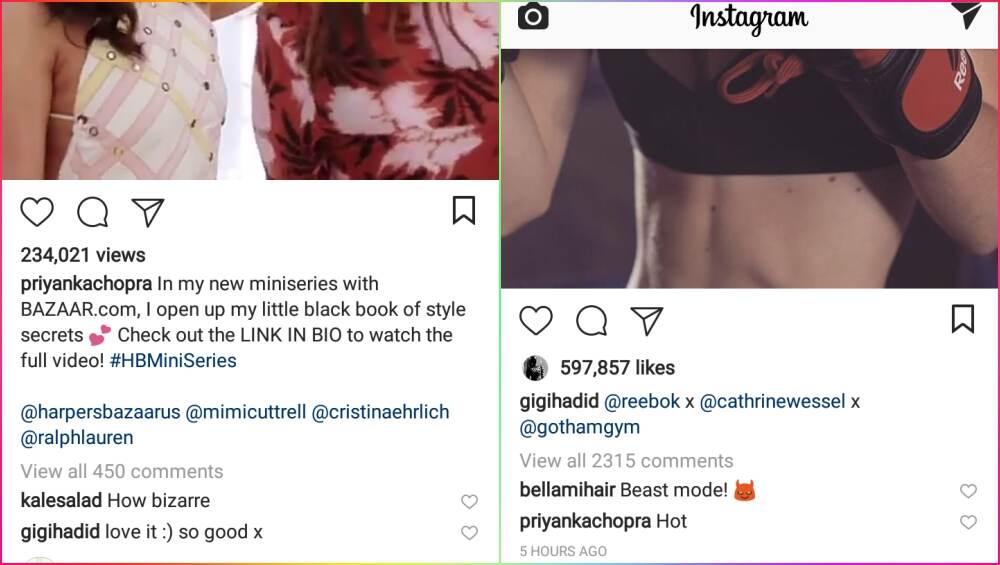 In true meaning, Priyanka has emerged as a global icon. Forget supporting roles, we have seen famous Indian actors doing blink-and-miss roles on the name of doing Hollywood movies. And in such times, the former beauty queen had a TV series, Quantico with her in the lead, and importantly was not a stereotypical portrayal of Indian actors or characters. She hangs out with biggest of Hollywood stars, attends the Royal Wedding and now (cross your fingers) might enter a serious relationship with none other than Nick Jonas. You go, girl!
(The above story first appeared on LatestLY on Jun 15, 2018 04:39 PM IST. For more news and updates on politics, world, sports, entertainment and lifestyle, log on to our website latestly.com).