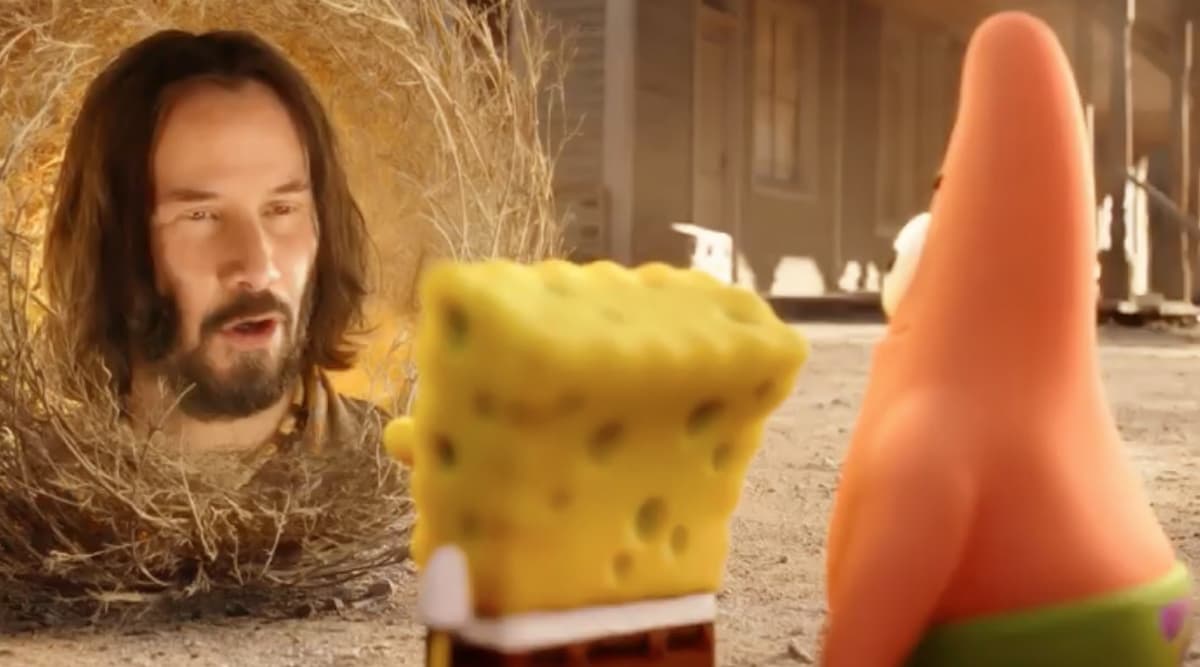 The trailer of The SpongeBob Movie dropped on November 15, and fans, instead of getting all excited about seeing their favourite characters – Patrick and SpongeBob – back on screen, are excited for a totally different reason.  While the new trailer looks fun, the show stealer is none other Keanu Reeves. Yes, believe it or not, Reeves is a part of this animated film and will be seen playing the cutest character ever. We bet hearing this you get a strong urge to watch the trailer right away and we have it for you right here. For the uninitiated, this is the third SpongeBob movie and the first one to be fully CG animated. Helen Mirren Finds It Flattering to Be Mistaken As Keanu Reeves' Girlfriend.
In the film, SpongeBob Squarepants and his friend Patrick embark on an epic adventure after their pet snail Gary is snail-napped. To bring back Gary home, the duo takes on a journey to the Lost City of Atlantic City. In an adventure filled with some interesting twists and turns, the two meet Reeves' character, Sage a tumbleweed who literally glows. This comes as a big surprise for fans who had no idea that Reeves was going to be a part of this film.
Check Out the Trailer of SpongeBob Movie Here:
Reeves' cameo has sent Twitter into a meltdown and they couldn't be more impressed about it. A user wrote, "To the executive or animator or writer working on #SpongeBobMovie that came up with the pitch of, "You know what live-action cameo this new Spongebob Movie needs? Keanu Reeves!" Check out some of the reactions for Reeves' cameo in the animated film. Keanu Reeves Introduces his First Girlfriend in Decades, Walks Hand-in-Hand with Alexandra Grant at an Event in Los Angeles (View Pic).
Reeves' Career Has Peaked!
Keanu Reeves' career has peaked. #SpongeBobMovie pic.twitter.com/s13O0ZR3no

— DiscussingFilm (@DiscussingFilm) November 14, 2019
OMG It's Him!
OMG IT'S KEANU REEVES IN THE SPONGEBOB TRAILER #SpongeBobMovie pic.twitter.com/8q3MKou0RO

— déia (@partygirlu2) November 14, 2019
When You're Casually Watching the Trailer and Keanu Reeves Turns Up!
me when i saw keanu reeves in the trailer #SpongeBobMovie pic.twitter.com/9g7qEWcImZ

— 𝚕𝚎𝚜𝚕𝚒𝚎. (@keanusre) November 14, 2019
The SpongeBob movie will have voice acting by Awkwafina, Clancy Brown, Tom Kenny among others. The movie is all set to release in May 2020.