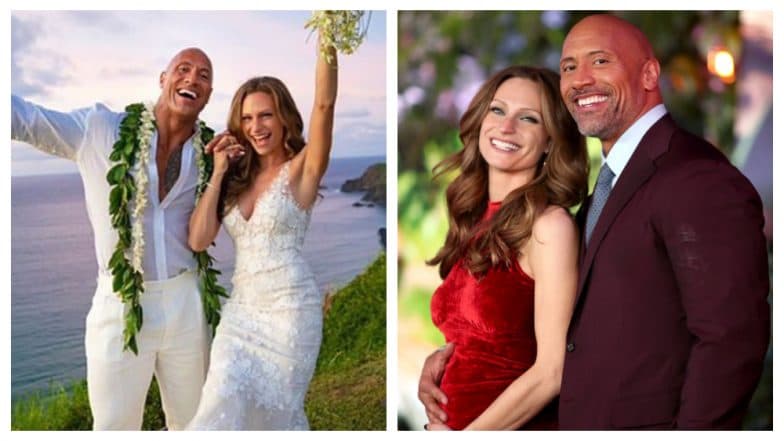 It sounds impossible, but just  ICYMI, we'd like to tell you that Dwayne 'The Rock' Johnson has married his longtime girlfriend, Lauren Hashian. The word got out only when the two posted about their intimate wedding on social media. The congratulatory messages are coming in from all parts of the world, since The Rock is such an international star. Despite, being married to an international celeb and a very public person like him, Lauren has always managed to keep herself a very private person. Especially, when it comes to matters of love.
So, in case you are also getting eager to know more about Dwayne's wife, Lauren Hashian, here are the top 5 things you should definitely know. Dwayne Johnson Marries Lauren Hashian: Here's Looking at the Newly-Wed Couple's Romantic Journey Over the Years (View Pics).
Lauren is a singer
And she comes from a family of musicians. She started creating music at the age of 19. She released her first music video in 2017 on her Vevo Channel on YouTube. She studied at Emerson College and had converted her dorm room into a recording studio.t
She is quite an athlete
View this post on Instagram
If you've been following Lauren's Instagram, you sure must have been inspired by her fit bod. The musician has been quite an athlete since school. In an interview, she revealed that she held the triple jump record in high school. What a diva.
Lauren met The Rock while he was filming for The Game Plan
Lauren and Dwayne Johnson met while the actor was filming for The Game Plan in Boston. Back then, Johnson was married to his first wife, Danny. The two split in 2007. Right after they began dating, Dwayne started referring to Lauren as his 'wife'. Which of course, confused his fans. "I just refer to her as my wife all the time. So a lot of people are like, 'Oh, did you get married?'" When people ask for clarification, he usually says something like "I'm like, 'No. Easy. Don't rush big daddy.'" he later clarified in an interview with People.
Lauren is also a reality TV star
Before all the fame, Lauren participated on a musical reality show, R U the Girl. The reality show had contestants compete against each other to win a chance to sing with the girl band, TLC. Yes, Lauren did go chasing waterfalls. She did not win the show, but definitely made her mark in the industry.
Lauren has two kids with Dwayne
Check out this family picture
View this post on Instagram
Lauren gave birth to her first daughter, Jasmine Johnson in December, 2015. She and Dwayne became parents again in April, 2018, when Lauren gave birth to their second daughter Tiana. Dwayna and Lauren planned to get married in 2018, but their plans backslid when they learnt about their second pregnancy.
Lauren Hashian is extremely beautiful, abundantly talented and loves her family to the core. We wish her a very happy married life with Dwayne. She literally got married to World's Sexiest Man, making millions of women jealous today.