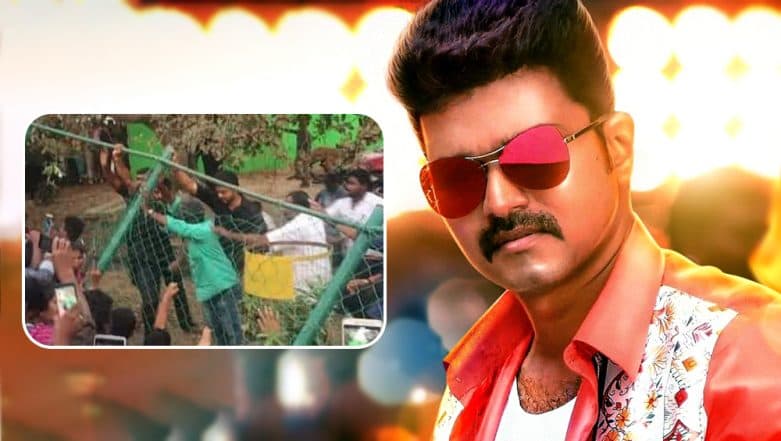 Tamil actor Vijay who is also referred as Thalapathy Vijay has started shooting for Thalapathy 63. The film directed by Atlee also features actress Nayanthara as the lead actress. The shooting of the film is going on at a popular university in Chennai and his fans are excited to see their superstar so close. Vijay's fan base is quite huge and they wait to catch a glimpse of this star. When fans heard that Vijay is shooting in the city, huge crowd gets gathered to see him. That's what happened recently but what happened after it was shocking. Prabhas Gets a Pat on the Cheek From a Hyper-Excited Fan in Public! Watch Video.
Recently, there were few students tried to chase actor Vijay to click a picture with him. They followed the actor's car shouting Thalaiva Thalaiva. The car instantly urged his fans not to follow him. There have been incidences where fans are seen crowding the shooting premises and the security having a tough time to manage the crowd. LEAKED! Here's When Vijay's Co-Star Nayanthara Will Join the Sets of Thalapathy 63.
A video is doing rounds of social media in which Vijay is seen getting closer to his fans to greet them, who are on the other side of the metal fence. But amidst the chaos, the fence almost falls onto the side where the superstar was standing. The security instantly tries to manage the crowd and moves the actor aside. But the actor also is seen trying to stop the crowd who were trying to get closer to him.
Take a look at the video which is going viral:
There is No Heros Who will Jump The Drinage and Welcome his Fans... The Due To Huge Crowd The Valley Suddenly Falls Without any Reaction Thalapathy Catches The Valley.. There is Know Heros Who will respect his Fans Like This

Thalaiva u r great #Thalapathy63 pic.twitter.com/YPCliF0plC

— THALAPATHY SQUAD (@ThalapathySquad) March 12, 2019
Vijay's co-star Nayanthara has not yet joined the sets of Thalapathy 63. The duo had earlier worked together in Villu. The film's music will be composed by A.R. Rahman and the moviegoers are going gaga about it already. Produced under the banner of AGS Entertainment, the film is scheduled to release on October 27.