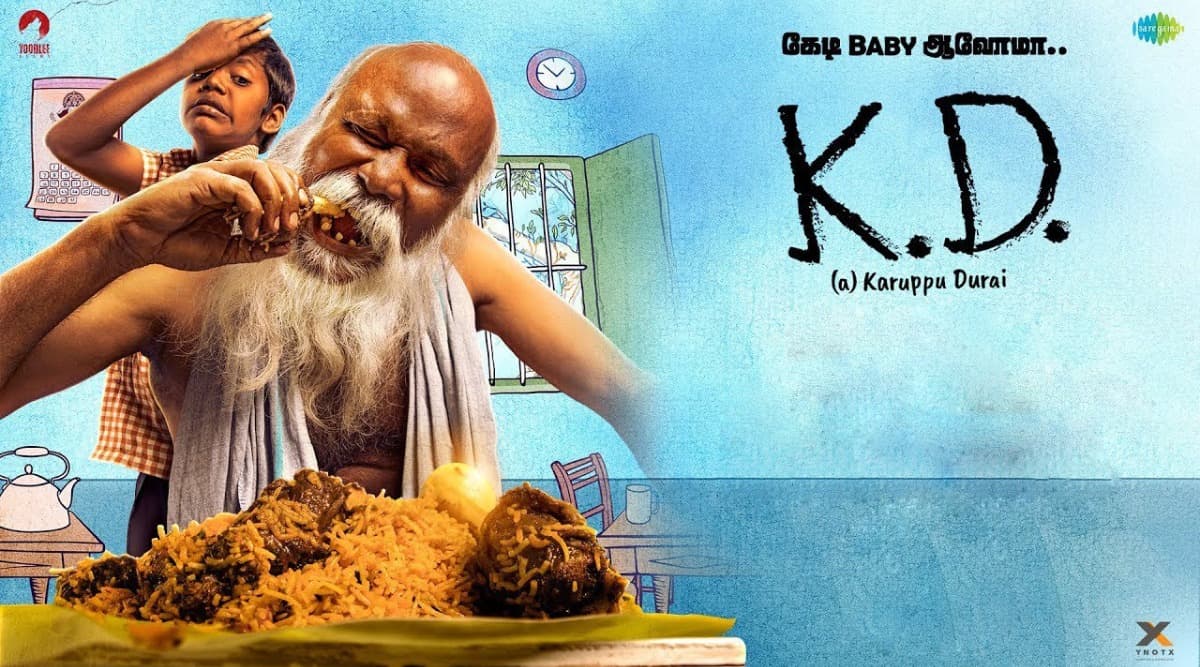 Don't mourn the dead, celebrate their life, is the central theme of Madhumita's Karuppu Durai. The film takes you through the unconventional journey of an old man who relives his life, does things he couldn't do and makes a connection he didn't experience all through his life. Director Madhumita takes us through some tumultuous emotional voyage as she explores the life of Karuppu Durai, also known as KD and gives us an understanding of the nuances of death and living in a more lucid manner.
The film begins with a voiceover by Karuppu Durai (Mu Ramaswamy), who is lying on his bed while the women of the house are surrounding him, tending to his comatose body, while the sons (and other men of the house), try to run the livelihood as they try to accept their father's fate. The first scene of the film itself points at the existing male chauvinism that is deep-rooted in rural of our country. While the family speculate the or rather wait with bated breaths for the death of Karuppu Durai, he manages to wake up from his coma, takes whatever money he can find, picks a small yellow bag and leaves.
Shocked by his missing status (and by the fact that he is out of his coma), the sons start scouting for their father. Meanwhile, not only has Karuppu Durai escaped the fate his family tried to set him up with but he has now found a reason to stay alive. The company of a young orphan going by the name, Kutty (Nagavishal), not only changes Karuppu Durai's name to KD but also gives him a purpose, rather 10, by preparing a bucket list for him. What follows next is how both, KD and Kutty comprehend death and lead their lives in each other's company.
Karuppu Durai, in its first few minutes itself, got me reaching to the tissue box. No kidding, the idea and practice of thalaikoothal (the practice of mercy killing of the elderly or the bedridden, as followed in rural Tamil Nadu) gives me chills as I have been in a situation where I have watched and waited for the death of an elderly. A line from the film actually states that the elderly should be given the choice to want to live or die when in such a condition. Sure, euthanasia is a debatable subject and delving into it, director Madhumita shows us shades of a fulfilled life. As KD takes off on a journey to simply rid his family off all the burden he has put by being bedridden, he learns more about living life! The execution couldn't have been more beautiful!
Karuppu Durai trailer -
Both, Mu Ramaswamy and Nagavishal's performance makes your heart ache with joy and sorrow. Their camaraderie is so pure and void of material need that it makes you want to root for their characters. The humour is on point, a much needed comic relief that would otherwise bring the energy of the film down. Madhumita has smartly used Nagavishal's strengths as his smooth dialogue delivery cracks you up but makes you feel things simultaneously. It wouldn't be surprising for me to see Nagavishal take home a National Award or some recognition as a child artiste. He is the life of the film!
Aside from discovering new sides of life and death, Madhumita also explores the idea of never being too old to pursue your bucket list. It is all very simply placed, the story is also well-paced, there is absolutely nothing complicated in the plot that would confuse the audience. It is a simple but heartwarming tale of a man who lives twice. Even when showcasing the life of KD's family, they're not shown in a bad light as they too have their own troubles to deal with. Basically, all sides to a subject are covered in the most straightforward manner. A special mention to Karthikeya Murthy's music composition, bravo!
Yays
- Mu Ramaswamy as KD and Nagavishal as Kutty
- Phenomenal direction by Madhumita
- Poignant music composition by Karthikeya Murthy
- Mindblowing writing and screenplay
- Commendable comic timing
- Uncomplicated
- Emotional and relatable
Nays
- Predictable but it doesn't really matter!
Final Word
Do not miss this movie! It has the power to make you laugh and cry (and I mean, literally cry) at the same time. Madhumita has great potential and films like Karuppu Durai are much needed in today's time. The film's take on life and death is simply brilliant and should not be missed. Karuppu Durai releases on November 22.