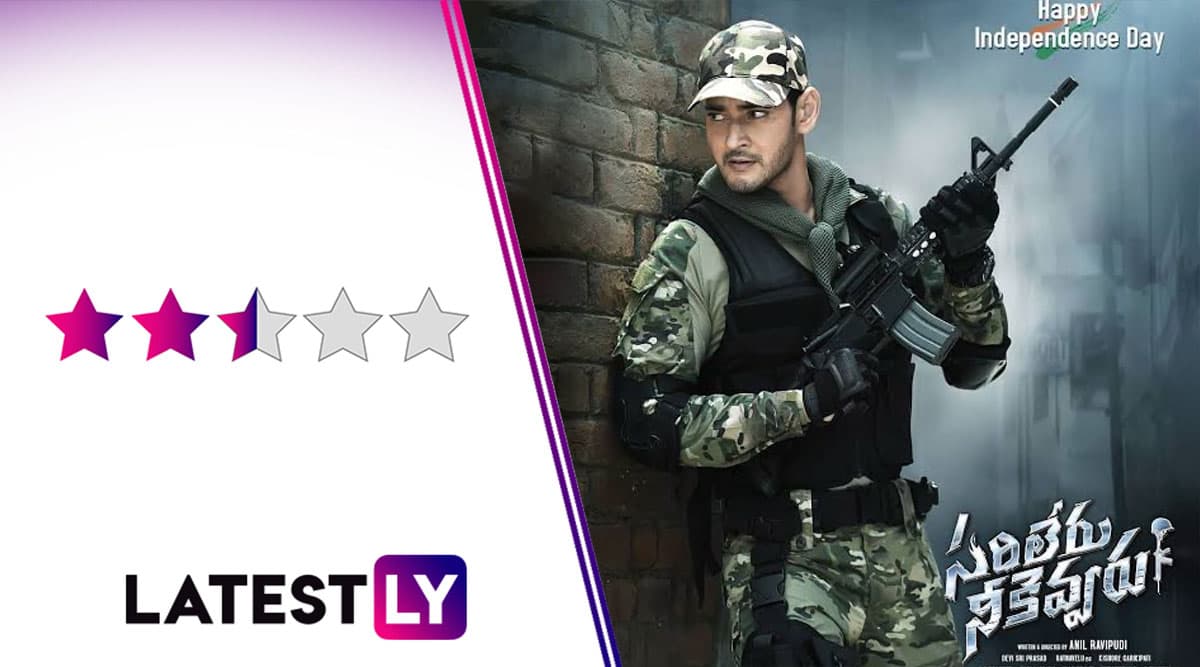 Sarileru Neekevvaru Movie Review: Damn! Sarileru Neekevvaru should have been more fun than what we get! The movie's lead star, Mahesh Babu, looking more dashing than ever, is in scintillating form. The film doesn't really make you look at your watch in exasperation. And it has quite a few crowd-pleasing moments. Yet, Sarileru Neekevvaru, directed by Anil Ravipudi, doesn't take complete control of its strengths and ends up being a merely passable entertainer with a few ups. Allu Arjun's Ala Vaikunthapurramuloo or Mahesh Babu's Sarileru Neekevvaru: Which Sankranti Release's Trailer Impressed You More?
Major Ajay Krishna (Mahesh Babu) is a courageous army officer stationed in Kashmir. An orphan since birth, Ajay is quite cool even in the face of calamity. During a mission, one of his compadres, who has the same name (Satya Dev), gets grievously injured. With his chances of surviving very less, Ajay Krishna is sent to his hometown in Kurnool to take care of his sister's wedding that's happening in a week.
After a lengthy, comic train sequence involving a crazy family (Rao Ramesh, Sangeetha) and their youngest daughter Samskruthi (Rashmika Mandanna) who is smitten with him, Ajay reaches Kurnool with his colleague (Rajendra Prasad). There, he finds out that the other Ajay's family is in danger. A powerful and corrupt Minister Nagendra (Prakash Raj) has put a death warrant on his mother Bharathi (Vijayshanti), a professor who stumbled upon a heinous crime of his. How Ajay saves the day for his family and tackles Nagendra is what the rest of Sarileru Neekevvaru all about.
As you can see, Sarileru Neekevvaru has a done-to-death premise. I have lost count of how many films we have seen a holier-than-thou protagonist coming to an unconnected place and rescue a family, hounded by a villain with just one facet of personality - be evil. In Mahesh Babu's previous film before this, Maharshi, itself, we had seen him help out a friend in the latter's hometown.
There are action sequences with no stakes at all (though I did like the first fight sequence involving the army operation). There is plenty of preaching, as Sarileru Neekevvaru uses most of the second half to sermonise about the sacrifices of the Indian army, and then get its hero to monologue about corruption and scams. And since Mahesh Babu is the lead, also have the film's heroine be enamoured by him in an OTT manner, make her have a madcap family, and then allow her to reiterate again and again how charming the actor's chocolate-boy looks are. They even put a song on it too!
Yet, Sarileru Neekevvaru doesn't become completely meh with its tried-n-tested-n-bored formula, mostly because Anil Ravipudi packages the film in an entertaining package that appeals to Mahesh's fans. He exploits the actor's comic potential to the best use, something which none of Mahesh Babu's other films has been able to do a good job of in recent times.
It isn't that Sarileru Neekevvaru's mix of humour and masala fare is consistently good. The train scenes involving the heroine and her family start off on a funny note, but then overt-stretches itself and loses any of good points. I have some serious issues with how these scene tries to make jokes out of child marriage, possible marital rape, domestic violence and sexual assault. Sarileru Neekevvaru Director Anil Ravipudi and Wife Blessed with Baby Boy! Mahesh Babu Congratulates the Filmmaker on Twitter.
Rashmika Mandanna's character gets irritating after a point and is completely unnecessary to the plot. It is high time that the directors of Mahesh Babu's movies need to figure out how to flesh out the female leads, other than getting them charmed by the hero.
Watch The Trailer of Sarileru Neekevvaru:
Towards the second half, the tone goes awry at quite a few places in the movie's attempt to add humour whenever things turn serious. Especially the finale, that goes from comedy to sermonising to finally end up being ludicrous.
Still, quite a few scenes entertain thanks to Mahesh Babu and his co-stars who make the comedy work with their dialogue delivery and funny reactions. The movie also lends itself well visually (cinematography by R Rathnavelu). DSP's songs add to the glamour of the film, especially the first song, "Daang Daang", and the mischievous "He's So Cute". The popular "Mind Block" number feels forcibly inserted into the proceedings.
The Performances
Sarileru Neekevvaru benefits hugely from Mahesh Babu's reinvigorated performance, having rehoned his comic timing, that he wasn't using much for some time. Even in the weakest film, the actor shines bright with his magnetic screen presence and impeccable dialogue delivery. The movie is definitely a treat for his fans.
The much-in-demand Rashmika Mandanna is cute and bubbly, and her expressions are fabulous. But the character she is stuck in grates your nerves. Vijayshanti brings a lot of dignity in a role that mostly needs her to look stoic and then predict the hero's moves to the villain. Prakash Raj is doing a repeat of his Singham act here. Rajendra Prasad is good as Ajay's reluctant companion. Rao Ramesh and Sangeeta ham.
Yay!
- Mahesh Babu
- Some of the Comic Scenes
- Doesn't Really Bore You
Nay!
- A Trite, Predictable Narrative
- The Tonally Confused Approach
- Forcibly Inserted Humour
- The Length
Final Thoughts
Sarileru Neekevvaru works as an entertainer mostly because Mahesh Babu is in top form. The film makes you laugh here and there, keeps you hooked here and there. But doesn't draw you in completely as a viewer. Unless you are Rashmika Mandanna's Samskruthi and are blinded by the lead actor's almost flawless complexion.