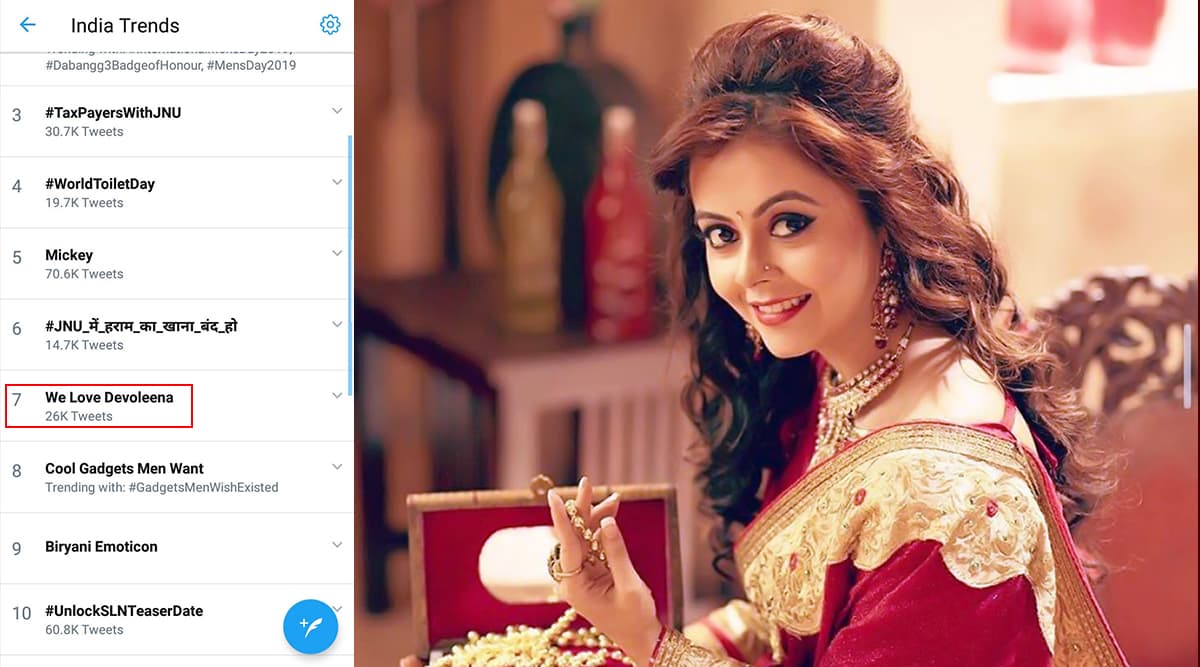 Devoleena Bhattacharjee returned to the Bigg Boss 13 game and how. While everyone has been talking about Rashami Desai and her changed behaviour what nobody noticed until recently was how Devoleena too was a changed lady once she entered the house, less agitated, speaking up in favour of the truth, no matter even if it was against her friends and most importantly, taking the first step to reinitiate her friendship with Sidharth Shukla, the latter who surprisingly responded. Devoleena who also had a rough patch with Shefali Jariwala, recently took her name during the nomination process and said that she wanted to see the latter move forward in the game as she is a fair plater. Bigg Boss 13 Nomination Poll: Rashami Desai, Devoleena Bhattacharjee, Khesari Lal Yadav, Arti Singh and Sidharth Shukla – Who Will Get Evicted This Week? (Vote Now)
And this new Devoleena has not gone unnoticed and fans of the actress started trending 'We Love Devoleena' on Twitter and the trend was at number 7 on India Trends.
Check Out Some Of The Tweets Below:
Devoleena Tamed Sidharth Shukla And Befriended Him:
Devoleena Ruled This Week With Her Dynamics.

- Performed Task Brilliantly.

- Changed The Behaviour Of Most Aggressive Man..

- Out And Out A COMPLETE ENTERTAINER @Devoleena_23

We Love Devoleena @BiggBoss @ColorsTV

— DevoSwag🌸 (@HayatHusul) November 19, 2019
Devoleena Making The Most Of Her Second Chance:
When life gives you a second chance, use it to the fullest...

Dil or dimag dono se khelo

We Love Devoleena pic.twitter.com/3Eta2jztzY

— Soni 🧚(#Devoshami ❤️) (@_Soni_speaks) November 19, 2019
Choice Words For Devoleena:
You Are Your Competion...

Nobody Can Beat You :)

You are Entertaining us With Your Presence in Biggboss House...

-: Fierce Lady

-: Strong Opinionated

-: Straight Forward...

We Love Devoleena @Devoleena_23 @JasleenMatharuu @OrmaxMedia

— K. Star ❤💝🌠♠ (@Bollywoodventu) November 19, 2019
Devoleena Already A Winner For Fans:
My Favorites in Last Few Seasons.

-: Prince Narula - BB Winner + TV Show + Won Nach Baliye.

-: Hina Khan - Among Most Successful BB Contestants, Ruling Every Platform.

-: Dipika Kakar - Winner + Doing Lead Role In Popular Show.

Same Feeling For @Devoleena_23

We Love Devoleena

— K. Star ❤💝🌠♠ (@Bollywoodventu) November 19, 2019
Devo's Game Plan:
We Love Devoleena

Devoleena is a Individual player . Except Rashmi no one is her friend. She has no group she made nomination based on game and her friendship.@BiggBoss @ColorsTV @Devoleena_23

— Aish ❤️ Piku is ❤️✨💫🌸 (@aishnalagra) November 19, 2019
Devoleena The Loyalist:
We Love Devoleena

Devoleena is honestly playing the game. She is showing real side of her.

She stands for Rashmi Mahira Paras.

She stands for right. She screams when angry. She shows all the emotions.

I hope she bags top 3

RT and love if you agree..@BiggBoss @Devoleena_23

— Aish ❤️ Piku is ❤️✨💫🌸 (@aishnalagra) November 19, 2019
Not Playing The Victim Card Here:
Strong women don't play the victim. Don't make themselves look pitiful and don't point fingers. They stand and they deal

We Love Devoleena@ColorsTV@Devoleena_23@BiggBoss

— Diksha😎 (@sid_diksha) November 19, 2019
Right from highlighting Devoleena's fair game plan to her loyalties to how she mended her differences with her once upon a time nemesis Sidharth Shukla and also how she has performed all the tasks that were thrown at her, fans lauded Devoleena and stated that she has utilised her second chance in the Bigg Boss house to the fullest. What was also the talking point here was how Sidharth and Devoleena are now friends and how their new equation has been an entertaining one. And we completely agree.