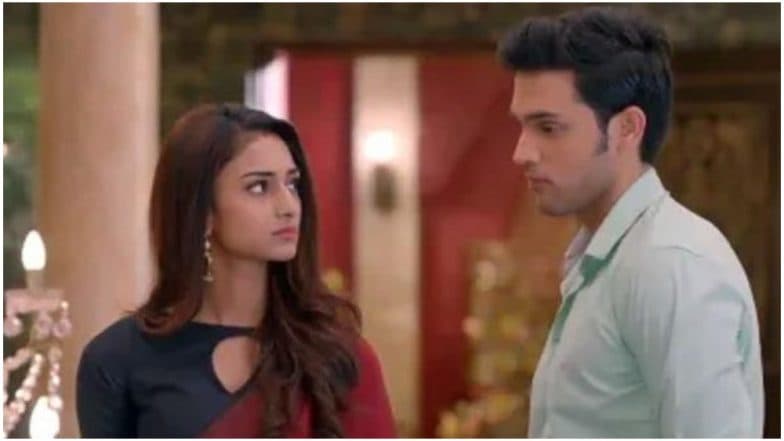 In yesterday's episode of Kasautii Zindagii Kay 2 we saw Prerna and Mr. Bajaj dance together on Kuki's birthday. While Mohini learns an unexpected truth, Mausi and Tanvi plan an accident. Tonight's episode starts with cake cutting of Kuki's birthday. Mausi tells Veena to bring the cake. Prerna (Erica Fernandes) gets upset seeing Veena doing the work but Bajaj (Karan Singh Grover) makes her understand that she is a family and helping us. Mausi tells Prerna and Bajaj to cut the cake together with Kuki. Meanwhile, Tanvi gets enraged as why Mausi told them to cut the cake together, Mausi tells by this way all eyes will be on them and they will be able to do their work easily and tells Tanvi that she is going up to cut the rope and will call Veena to hold it and when the rope falls on Bajaj she will blame Veena for all this. Kasautii Zindagii Kay 2 August 19, 2019 Written Update Full Episode: Tanvi and Mausi Plans to Oust Prerna From Mr. Bajaj's Life!
Mausi goes up and cuts the rope with a knife, down the cake cutting is going on so no one notices Mausi while she is cutting the rope, she leaves only one string so that when anyone touches it will break. Later, Kuki brings a cake for Veena and gives her. On the other side, Mausi goes to Veena and says that she is not doing her work nicely and tells she feels the hanging decoration is little loose and tells her to tight it, Veena goes up.
Prerna comes and tells Mausi that she is her mother, Mausi acts as she does not know it and asks apology as she told her to do work. Tanvi also comes and tells that Veena was talking rubbish about Bajaj and Prerna, so Mausi got furious and they had an argument. Meanwhile, when Veena goes up to fix the hangings, she sees that it has been cut and tries to hold it. Veena shouts and tells Bajaj to get aside, but it falls directly on him and he gets hurt. Kasautii Zindagii Kay 2 Actor Parth Samthaan Flaunts His Pecs in This Throwback Selfie (View Pic)
They rush and take him to the hospital, Prerna also goes with them. Mausi tells Veena that she did purposely to hurt her son as she does not like him, Veena says she is innocent. Mohini sees this all drama and says that Mausi is plotting something against Veena and wonders why is she doing this. Later in the hospital, Prerna sees Tanvi more concern for Bajaj's health. Tanvi prays God that he should get well soon as she really loves him. Prerna tells Tanvi to calm down and assures that Bajaj will get well soon. Meanwhile, Mausi thinks that she will have to make Kuki hate Prerna and ploys a plan.
On the other side, the police come to the Sharma house to arrest Veena on charges of trying to kill Mr. Bajaj. In the hospital, Tanvi gets a call from Mausi and tells her to tell Prerna that she needs to go home as Mausi is uncontrollable. The doctor comes out and informs Prerna that Bajaj is stable now and she can meet him if she wants. In the precap, Mohini shows Mausi the photos in which she is cutting the rope, Mausi gets tensed. Later, Prerna comes to know that Mausi had a complaint against Veena in the police station.