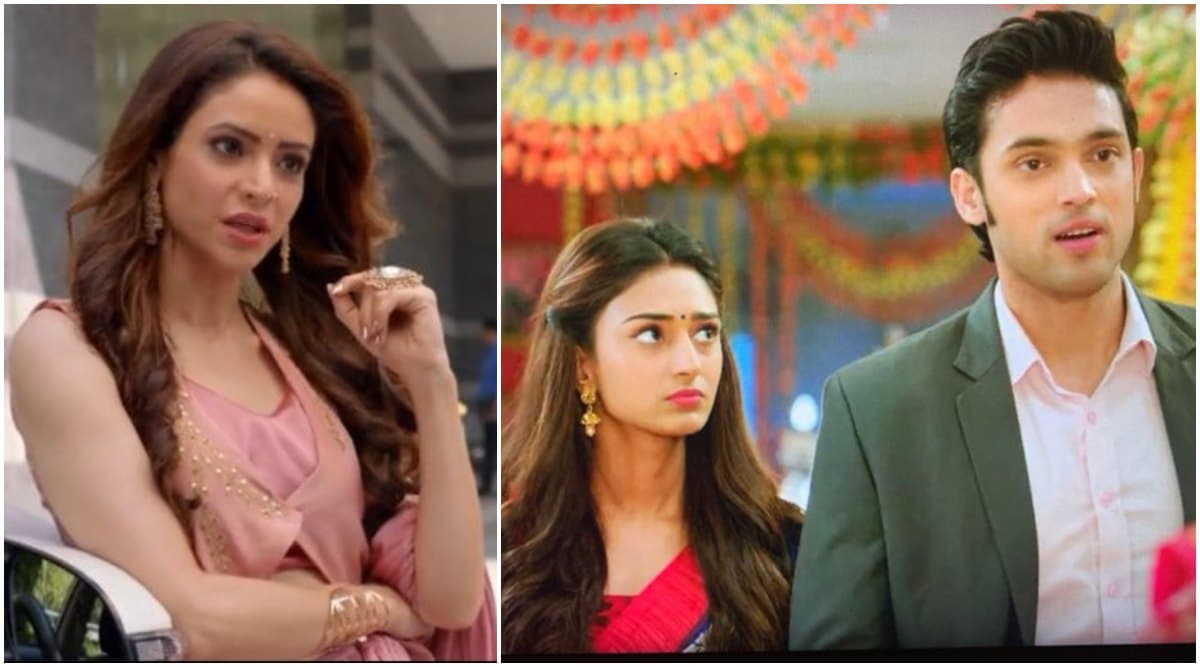 In yesterday's episode of Kasautii Zindagii Kay 2, we saw Anurag questioning Prerna about her husband while they are decorating his room together. Later, Komolika aka Sonalika, attempts to kill Anurag and Prerna's unborn child. Tonight's episode starts with  Sonalika (Aamna Sharif) trying to distract Anurag (Parth Samthaan) who is busy in his work. Anurag asks her to stop as he is busy. Sonalika tries to get intimate but Anurag feels awkward and leaves the room. Sonalika pretends to have hurt her toe and asks Anurag to help her to the bed. She tries to seduce him by deliberately throwing herself at him. Just then Anurag sees the side table catch fire and rushes to stop it.  He informs Sonalika that there's a short circuit and switches off all the lights. He leaves the room to seek some help.  Sonalika gets upset when her plan fails and blames Prerna for the same. She feels that it's Anurag's ex is trying to sabotage her special night. Kasautii Zindagii Kay 2: Mr Bajaj To Be Reintroduced, Will It Be Karan Singh Grover Or Someone Else?
Next day morning, in the Sharma house, a pregnant Prerna (Erica Fernandes) is craving for rosgullas. Veena decides to go to the market and get some sweets for Prerna. While Prerna is getting ready to leave home for work, the doorbell rings. She is surprised to see Sonalika at her doorstep. Sonalika accuses Prerna of ruining her honeymoon night. Prerna tries to tell her that she is innocent, but Sonalika alleges that Prerna has feelings for Anurag. Sonalika asks Prerna to stay away from Anurag as he is her husband now. Prerna is reminded of Komolika when she sees Sonalika's possessive and manic behaviour. Prerna gets exhausted after all the drama and feels dizzy. Sonalika continues to rant and Prerna finds uncanny similarities between Anurag's new wife and Komolika.
On the other hand, Anurag tells Moloy about the previous night and also that Prerna helped him decorate his room for his honeymoon night. Moloy gets furious and feels Mohini was behind all this. He even decides to warn Mohini. Meanwhile, Mohini comes to Anurag's room and asks Sonalika for his whereabouts. Sonalika tells about the short circuit in their room and blames Prerna for it. Just then Prerna who's passing by their room overhears them. Mohini spots Prerna and asks her to apologize to Sonalika. Prerna goes inside the room to keep some files. Sonalika accuses Prerna of spying on her.  Prerna tells Sonalika that maybe they've met in the past, the latter gets tensed on hearing this and leaves from there.  Prerna wonders why Sonalika's face turned pale on her mentioning them being acquainted and vows to unearth some proof. In a bid to get some hint she tries to look into Sonalika's wardrobe. Kasautii Zindagii Kay 2 November 18, 2019 Written Update Full Episode: Komolika Tries to Kill Anurag and Prerna's Unborn Child
Mohini calls Sonalika and asks her to join them for a friend's party. Nivedita insists that they go shopping together. On the other hand, Prerna snoops around Sonaliks's wardrobe, when Anurag walks in and questions her. Prerna tries to cover up and says she was there to pick Sonalika's red saree. Anurag gets upset and asks her to only work for him and nobody else. Sonalika comes into the room and in anger tries to make Prerna fall, but Anurag comes to the latter's rescue. Anurag gets upset with Prerna for being so irresponsible.
In the next episode, Anurag calls Prerna and confesses that he cannot stop thinking about her and her unborn child. Komolika overhears this conversation and fears that their unborn child could re-unite Anurag and Prerna and vows to get rid of it.