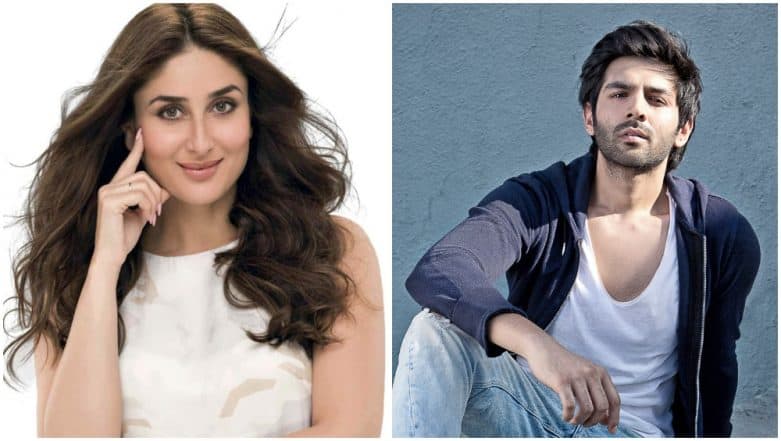 Expect Kareena Kapoor Khan to never mince her words. She's vocal about anything and everything that she feels and that's a trait of her personality that we all admire. From being brutally honest to bitchy at times, Bebo and different shades cannot be even. So it didn't startle us a bit when she confirmed that Sara Ali Khan and Kartik Aaryan are indeed in talks to star in a project together. Is it Love Aaj Kal 2? We don't know but the newcomers can very well stop lying about these reports to be mere rumours. Anyways, leaving that behind, it was Bebo's comment on Kartik being not 'classy enough' that made us raise our eyebrows. Koffee with Karan 6: Did You Know Shahid Kapoor Once Went on a Holiday With Kareena Kapoor Khan and Priyanka Chopra?
Yes, when Karan asked Kareena if she is happy with Kartik entering her life through Sara (since she wants to date him), she said, "He's wonderful. I think they'll make a good pair. They are planning to do a movie together. They look good. He's massy, she's classy. Mass and class always work." We do believe Bebo didn't realise the goof up and she was coming from a good place but Priyanka was quick to notice the blunder. She tried to pull Kareena's legs by asking if she thinks Mr Aaryan is not classy enough. Finally, Bebo believing in the 'blood is thicker than water' ideology said, "But Sara is classier." Ouch! We can totally imagine Kareena saying these words as they perfectly fit in her dictionary. Koffee With Karan 6: Kareena Kapoor Khan To Be A Bridesmaid At Malaika-Arjun Wedding?
Coming to Love Aaj Kal 2, there were reports if Sara has exited this Imtiaz Ali directorial. But Saif in his recent conversation with Mumbai Mirror confirmed that the director is indeed making a sequel and he's happy to pass on his role to the other actor. We hope the big announcement is already on its way. Meanwhile, we wait for Kartik to give his two cents on Bebo's comment.