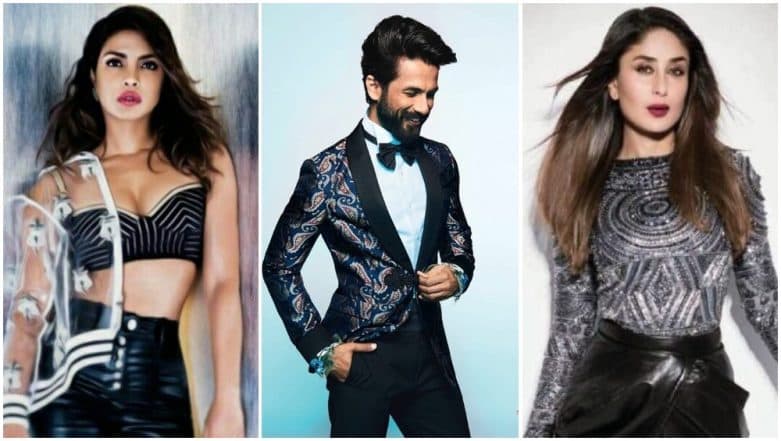 As weird as it may sound but the headline above is not a mere rumour and we have strong proof for the same. So unless you are leaving under a giant rock, you'd know about Shahid Kapoor and his different affairs. From Kareena Kapoor Khan to Priyanka Chopra, the Haider actor has been quite lucky in the dating department and that's a reality that we all are aware of. Though he was a bit vocal about his equation with Bebo, he preferred to be tight-lipped about PeeCee. However, in their recent conversation with Karan Johar on Koffee with Karan 6, Kareena and PC did reveal the only time when the trio went on a holiday together and things were definitely not the way you're imagining currently. Koffee With Karan 6: Shahid Kapoor Has an Advice for Ex-Girlfriend, Priyanka Chopra's Husband, Nick Jonas and You Should Definitely Hear It.
When the filmmaker decided to address the elephant in the room and quiz the beauties about the same actor they once dated, Kareena revealed an incident when she was in Bali with her former beau. So it turns out that Bebo and Sasha were holidaying in Bali on New Year's eve and Priyanka was already chilling with one of her gal pals. Since the equations weren't as dynamic as they were later, the trio was chilling together like a gang of friends. Koffee With Karan 6: After Hardik Pandya's Fiasco, Twitterati is Lauding Shahid Kapoor for Showing How to Be Mature and Cool at the Same Time.
However, on New Year's eve, PeeCee decided to chill in a club with her friend as Kareena was already dozing off in her room. The Good News actor had then turned vegetarian for her beau and it was around the same time when she was also a bit spiritual. That was the time when Priyanka and Kareena shared a cordial relationship. Little did the former know that she'd end up dating the same guy some years later. Nevertheless, it was a 'boring' trip for Kareena and now we all know why. Though we wonder what Shahid has to say about this.