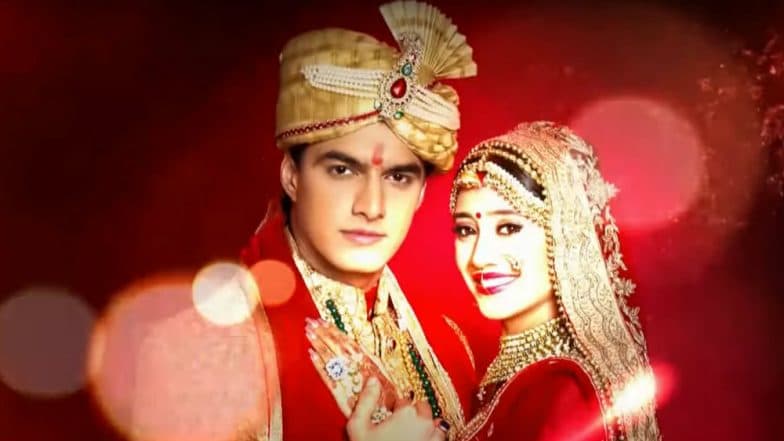 Today's episode of Yeh Rishta Kya Kehlata Hai starts with everyone telling Naira (Shivangi Joshi)to open the door. Kaveri is telling Devyani that let Kirti go home as her health will suffer and that now nothing is there in their hands. Naksh tells them to stay here and that he will take Kirti home, listening this Kirti says that she does not want to go but Naksh assures her that they will come back and takes her. While going Kirti cries aloud and requests Naira to just show her baby and that let her once take her baby in her arms.
Kirti cries and tells Naira to give her baby and folds her hands. Manish shouts at Kartik as why he did this, Kartik (Mohsin Khan) goes from there. Naira puts the baby in the bed and kisses him, there Kartik walks in the road and thinks about Kirti and Naira and feels very bad for what he has done. (Yeh Rishta kya kehta hai track is played in the background) Kartik asks for forgiveness from both Kirti and Naira. Everybody is tensed and don't know what to do.
The next day morning, Manish is telling everyone that Naira has not opened the door from yesterday. Surekha comes and tells she heard Krish's crying and laughing sound but god knows how is Naira. Akhilesh tells why Kartik had to do this all and how can we make everything normal. Suhasini is tensed whether Kartik is fine and where is he gone and prays to god that he should be safe wherever he is.
There Naira dresses up Krish and tells how cute he is looking and tells that we are going out and that she will take her very far from here and packs Krish's clothes. Naira cries and holds Krish and tells that she won't let him go anywhere. Down Naksh is telling Kirti that they should go home and Devyani and Kaveri tell Naksh to hold her and take her home. Suhasini asks if anyone knows where is Kartik, Manish says let him be wherever he wants to be and that for what he has done they cannot forget it.
Just as Kirti is going, Naira calls out from the back. All are shocked seeing Naira with the baby. Naira comes down with Krish and asks Kirti does she not want to hold the baby one time before going and then will she give it back to her. Naira says that she will not be able to give and that she won't be able to take it back and that she cannot take a baby away from a mother. Naira tells that she does not know why Kartik did this but she cannot make a mother and a child apart from each other. Kirti cries.
Naira says that she thought the whole night and thought she will not give Krish to anyone and then kept her in place of Kirti and thought what would she do. Naira tells Krish is Naksh and Kirti's baby and they owe him and give the baby to Kirti. Kirti's hand shiver while taking the baby. Kirti says sorry and thank you to Naira. Naira tells the maid to keep all the stuff of Krish in Naksh's car. Naira tells Kirti that it is a happy day for them as they got their baby today and tells them to enjoy and not to be sad because of her and goes from there to her room and feels lonely and lies down in the bed (Yeh Rishta Kya Kehlata hai track is played in the background)
Down Suhasini is giving blessings to Krish when he is leaving and asks forgiveness for what Kartik has done, Manish is angry and tells that Karti should be punished for what he has done. Kirti tells sorry that because of her this all happen and tells that they should tell Naira that she could not do what Naira had done today. Naksh says that he is also feeling guilty while taking the baby from this home. They all take leave from the house. Manish says they are feeling happy has Kirti got her baby but at the same time, sad as Naira's baby is gone. Manish tells everyone to be with Naira to support her.
Akhilesh tells that Naira's doctor had told that she should not get any shock in her life, Manish tells that her husband only gave her a shock. Surekha tells that we should go to Naira and see how is she. Suhasini thinks about Kartik and hopes he comes back as Naira needs him. Kartik sees Kirti and Naksh taking the baby, Kartik stops in front of Naksh's car and folds his hands. Naksh gets angry and tells him to get away and tells the driver to start the car. Kartik feels tensed as to how will be Naira and says he has to be with her at this time and runs. Suddenly a truck comes and dashes Kartik.  In the precap, Suhasini calls Kartik and comes to know that he has met with an accident