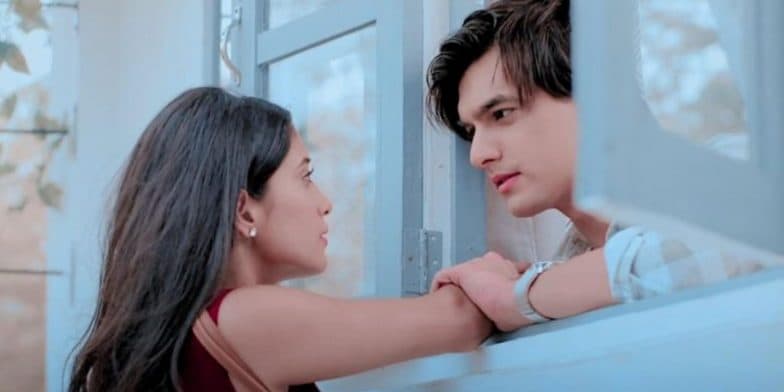 Today's episode of Yeh Rishta Kya Kehlata Hai starts with Rishab telling Naira (Shivangi Joshi) to come with him. But Kartik (Mohsin Khan) pushes him aside and asks how dare he come between him and Naira. They both argue with each other. As they fight with each other Naira goes from there and flashbacks what all Kartik revealed to her. Rishab tells Kartik that Naira will not forgive him and he should be prepared for that. Kartik is upset. As Mishti (Rhea Sharma) is about to leave, Kartik tells her to be with him as he needs her and tells that he did this all for their love and that he does not want to lose Naira. Kartik says no one is understanding him.  Kartik tells that she was the one who helped him when he needed and that she should trust him. Mishti says that she has to do something. Yeh Rishta Kya Kehlata Hai March 14, 2019 Written Update Full Episode: Kartik Reveals the Truth to Naira, Will She Go Against Naksh's Wishes and Forgive Her Husband?
There Naksh comes to the dance academy and enquires about Siddharth, but the receptionist says that she cannot help him. Meanwhile, Naira locks herself in her room, Kuhu ask her to open the door, just then she gets a call from her matron ma'am asking whether they took the signature and tells that if they fail to get it then they have to perform and win also, or else they will be rusticated from the college. Kuhu gets tensed as to what will they do when everyone comes to know the truth. YRKKH's KaiRa Aka Mohsin Khan and Shivangi Joshi Turn Shiv-Parvati for Mahashivratri 2019! See Beautiful Couple's Loving Photos
Meanwhile, Devyani is telling Kaveri that they have to do the pooja for the well being of their children. Just then Rishab comes and when he tries to go to Naira's room, Kuhu stops him. Naksh asks Rishab what is the matter and why are all tensed, just then a man comes and gives an envelope to Naksh. When he opens it he is shocked to see Kartik and Naira's photo. Rishab tells everyone that Kartik is only Siddharth and he was with Naira all this time. Naksh gets angry and throws everything here and there. Kartik comes and tells so he came to know now and that he wanted to tell him the truth himself. Naksh tells that Naira does not know who he is, Kartik says then too she loves him. There Mishti brings Manish along with her, he tells Naksh that he told everything to her but has hidden the main relation that she has with Kartik. Naksh says that he did not want Kartik to enter Naira's life again. Naksh and Manish get into an argument. Naksh shouts and tells that Naira will never be his, Kartik says if this is true then to he wants to hear it from Naira only and not from him. Just then Naira comes and tells them to stop fighting with each other, Naira sees Kartik and tells that she loves him, all are happy to hear this.
In the precap, Kartik is promising Naira that he will keep her happy all her life