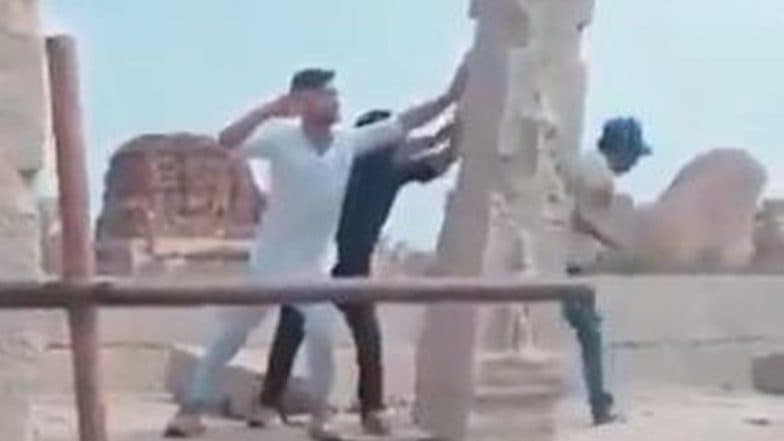 The four miscreants who brought down an ancient pillar at the world heritage site at Karnataka's Hampi has been asked to rebuild it. Judge Poornima Yadav at JMFC court in Hospet asked the four vandals to pay Rs 70,000 each and re-erect the fallen pillars. All the four vandals who work in Bengaluru are from Bihar. One of the four who caused the damage even posted the video on Instagram but following the uproar deleted it.
The incident not only caused social media outrage but locals also staged a protest demanding adequate security to be provided to the monuments. According to a report in the New Indian Express, the four accused - Ayush from Madhya Pradesh, Raja Babu Chowdary, Raj Aryan and Rajesh Kumar Chowdary from Bihar were taken to the spot where they together brought the pillar weighing tonnes back to its place. Hampi, UNESCO World Heritage Site, Damaged by Miscreants, Probe Underway.
Following the incident, earlier this month, water resources minister D K Shivakumar had said the state government would not tolerate any act of causing damage to historical sites and stern action would be taken against the culprits.
Here is the video of the vandalism:
Kalimuthu, Deputy Superintending Archeologist, Hampi Mini Circle confirmed that the pillars were re-erected by the youths. Additional Public Prosecutor  Geetha Mirajkar was quoted as saying, "The maximum punishment for the act is two years imprisonment or fine up to Rs 1 lakh. Offenders will have to serve the jail term if they are unable to pay the fine. The judge ordered them to pay the fine and they were released after they re-erected the pillar."
They were arrested on February 8 and were in custody till February 13. Hampi is known for its rich architecture with centuries-old history. It has a number of heritage sites with ruins of Vijayanagara, which was the former capital of the powerful Vijayanagara Empire. It was recently one of the New York Times list's 52 must-go sites in the world.