Mumbai, September 28: Ganesh Chaturthi festivities conclude on September 28, with Ganesh Visarjan on the 10th day. Devotees bid adieu to Lord Ganesha by immersing the idol in water, hoping for his return next year. The Lalbaugcha Raja, deemed as "Maanacha Ganpati", is situated in a narrow bylane of Lalbaug and is considered Mumbai's one of the famous Sarvajanik Ganpati. Devotees from across the country wait for long hours to get a glimpse of the god of wisdom, knowledge, and prosperity. Ganeshotsav 2023: Maharashtra CM Eknath Shinde Offers Prayers to Lord Ganesha at Lalbaugcha Raja in Mumbai (Watch Video).
Ganeshotsav is celebrated with great fervour across various states in India. While some perform Visarjan after 1.5, 3, 5, or 7 days, the final day of the festival holds special significance as it is believed to mark Lord Ganesha's return to his heavenly abode. On the day of the visarjan, the much-loved Lalbaugcha Raja will be immersed in Girgaon Chowpatty on Anant Chaturdashi 2023. The visarjan route, along with the traffic advisory, has been released by Mumbai Police. Devotees, as well as city commuters, are advised to adhere to it. Lalbaugcha Raja 2023: Charan Sparsh To Close Early on September 27, Mukha Darshan by Midnight; Check Timing and Other Details.
Mumbai Police Traffic Advisory for Ganeshotsav 2023:
आज दिनांक २८-०९-२०२३ रोजी लालबाग, काळाचौकी परिसरामध्ये अनेक मंडळाचे गणपती विसर्जनाकरिता बाहेर पडणार असून यावेळी त्यांच्या दर्शनासाठी भक्तांची गर्दी होण्याची शक्यता आहे.

त्यामुळे जनतेस होणारी गैरसोय टाळण्यासाठी खालील वाहतूक व्यवस्था करण्यात आली आहे. #वाहतूक_व्यवस्था pic.twitter.com/BaiPIIHo1c

— Mumbai Traffic Police (@MTPHereToHelp) September 28, 2023
The Lalbaugcha Raja 2023 immersion route will commence from Lalbaug and traverse through NM Joshi Marg from Bharat Mata Chowk to reach Byculla. It will then proceed towards Clare Road, Nagpada, Duncan Road, and Don Taki. Subsequently, the procession will head towards Madhav Baug and the Opera House before finally reaching Girgaon Chowpatty. To ensure a smooth procession, heavy police presence will be deployed at every juncture.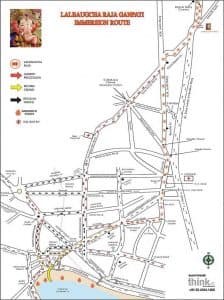 Devotees from all over the city, along with other parts of Maharashtra, participate in the immersion route to bid farewell to their beloved Bappa, with the hope of reuniting next year.
(The above story first appeared on LatestLY on Sep 28, 2023 08:07 AM IST. For more news and updates on politics, world, sports, entertainment and lifestyle, log on to our website latestly.com).