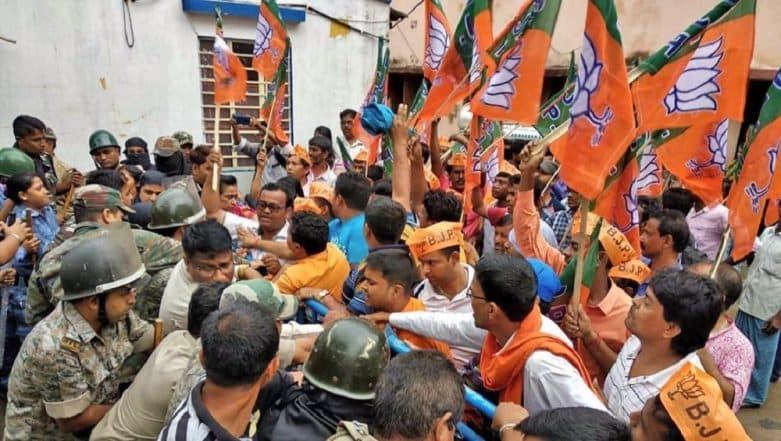 Purulia, June 4: Doctors at a government hospital in a post-mortem report on Sunday claimed that a 30-year-old Bharatiya Janata Party (BJP) worker who was found hanging from an electric pylon on June 2 in West Bengal's Purulia committed suicide. This was the second death of the BJP workers in four days. On May 30 another BJP worker was found hanging from a tree in Purulia.
Aakash Maghariya, Purulia's Superintendent of Police at a press conference disclosed the hospital report. Quoting the report he said that five doctors had conducted the post-mortem and they concluded that Dulal had died of asphyxia ante-mortem by suicidal hanging. However, the BJP has rejected the post-mortem report. The party claimed the deaths 'political murders'. The party also called a 12-hour shutdown in Balarampur in protest of the killings.
The BJP has won on 12 blocks out of 20 in the recent panchayat polls. As per media reports The BJP has raised concerns that the ruling party, TMC used Maoists to execute the killings. However, the TMC refuted the claims and alleged Bajrang Dal and BJP for their involvement in the killings. The ruling party did not even reject the possibility of even Maoists' hand in the death. In his tweet, TMC leader Derek O'Brien has tweeted that the government was probing all the angles involved in the deaths. He also indirectly pointed fingers at the BJP by highlighting the fact that West Bengal shares border with the BJP ruled Jharkhand.
We strongly condemn this despicable killing.All angles must be probed.The perpetrators of this heinous act must be punished. What role did Jharkhand border have to play? What elements of Bajrang Dal, Maoist or BJP involved. Let the truth be found out through proper investigation

— Derek O'Brien (@derekobrienmp) June 2, 2018
Thirty-year-old Dulal was a grocery shop owner. According to a report published in The Times of India, he left his home in Dabha village on his motorcycle on Friday night carrying dinner for his father who slept near his shop at Dabha More on the Balarampur-Bagmundi Road about a kilometre away. On Saturday Morning villagers found Dulal's body hanging from a high tension pole.