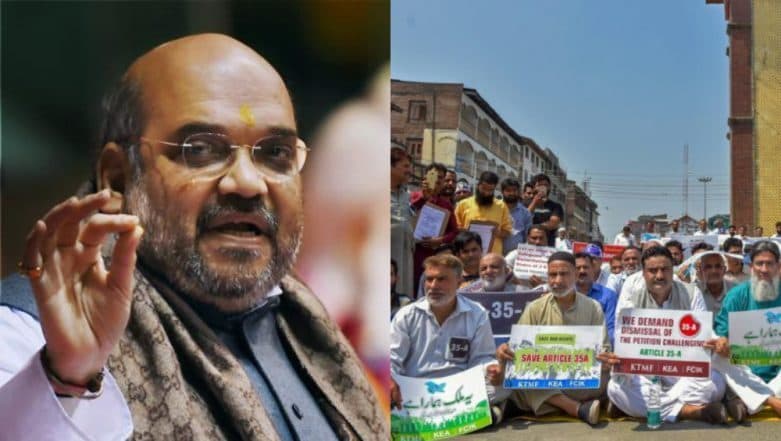 New Delhi, August 5: The Central government on Monday bifurcated Jammu and Kashmir into two parts and scrapped the special status granted to the state of Jammu and Kashmir by modifying Article 370 of the Constitution. Along with this, Union Home Minister Amit Shah informed the Rajya Sabha that Article 370 scrapping report was a misunderstanding, stating that the government only used Articles 2 and 3 to reorganise Jammu and Kashmir.
According to the Monday's developments, the Union government got an order signed by President Ram Nath Kovind that came into force 'at once' for Jammu and Kashmir. The new provisions mention that recent Presidential order is subject to ratification by parliament, under which Article 35A - which was part of the presidential order of 1954 - goes away. Jammu and Kashmir Bifurcated: Rajya Sabha Passes Resolution, Amit Shah Assures 'J&K Will Get Statehood Back When Situation is Normal'.
The Presidential order clearly states that Article 370 has not been scrapped, but discriminatory provisions of Article 35-A have now become unconstitutional. Under Explanation II of Article 3, the State has now been bifurcated into two union territories — Jammu & Kashmir and Ladakh. Also, Kashmir has now been given a status lower than other states.
With things taking political turns and opposition demanding an explanation on the Modi government's intentions, Shah promised development in the Valley in the next five years and also gave an assurance that once the situation goes back to normal, Jammu and Kashmir will be back to being a state. Jammu and Kashmir Lose Privileges Under Article 370, Article 35A: What Does it Mean For Kashmiris and Other Indians?
Meanwhile, Prime Minister Narendra Modi applauded Amit Shah for his speech in parliament today over the government's unprecedented move on Jammu and Kashmir. Even Lal Krishna Advani congratulated the Home Minister stating that since Jan Sangh days, doing away with the special status of Jammu and Kashmir has been a part of the BJP's core ideology.
Along with this, several State Chief ministers applauded the BJP-led Central government for making historic amendments in bringing development to the state of Jammu and Kashmir. While, former Chief Ministers Omar Abdullah and Mehbooba Mufti were detained hours after the landmark provisions were tabled in the Upper House.
As speculations of safety for the Kashmiri residents gained momentum, Ministry of Home Affairs (MHA) asked all states and Union territories to ensure the safety of residents of Jammu and Kashmir. Law enforcement agencies have been asked to be on their toes. Article 370 Abrogated From Jammu And Kashmir: India on High Alert, MHA Asks States to Ensure Safety of Kashmiris
Restrictions, like Section 144 of the CrPC, were imposed in Srinagar district. Even internet services were shut down in several parts of the Valley and educational institutions were ordered closed. Earlier, tourists were asked to leave Jammu and Kashmir while the Amarnath Yatra was curtailed.