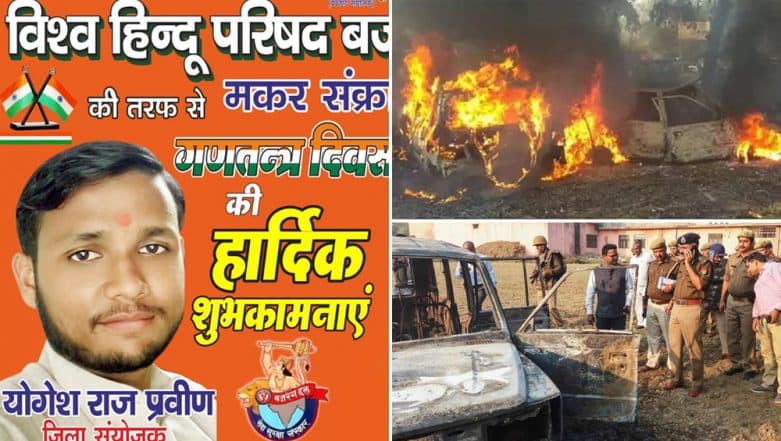 Lucknow, January 14: Main accused in the Bulandshahr mob violence, Yogesh Raj, has featured in the banners of Bajrang Dal and Vishwa Hindu Parishad, wishing Uttar Pradesh residents on the occasion of Makar Sankranti and the upcoming Republic Day. The posters featuring Yogesh have been put up across the state.
Yogesh, 23, was taken into custody earlier in the month -- after three weeks since he was avoiding arrest. He is charged of inciting a mob in Bulandshahr after spotting cow carcasses in a forest nearby. In the ruckus which followed, one policeman and one local lost their lives. Bulandshahr Mob Violence: Key Suspect Shikhar Aggarwal Arrested From Hapur District, Say Police.
Yogesh, who is the Bajrang Dal's district convenor in Bulandshahr, had approached the police with a complaint of cow slaughter. It was later found that most names he had given to the police were of innocent Muslim villagers, who had no role in the cow carcass being left in the forest.
On December 7, when the mob violence was reported, Yogesh was allegedly into a heated argument with Inspector Subodh Kumar Singh. Subsequently, Singh was cornered and beaten up by a mob of nearly 400 miscreants, who also shot him to death.
Yogesh went into hiding after Singh's murder, and also released videos from his hideout claiming innocence. He instead blamed the Muslims who had organised an ijtema in Bulandshahr for instigating the locals by slaughtering a cow.
With the police taking over 20 days to arrest him -- despite his identity being ascertained, questions were raised by the Opposition whether the government headed by priest-politician Yogi Adityanath is going soft on the accused, which involved workers of Bajrang Dal and VHP, along with a youth wing worker of the BJP.