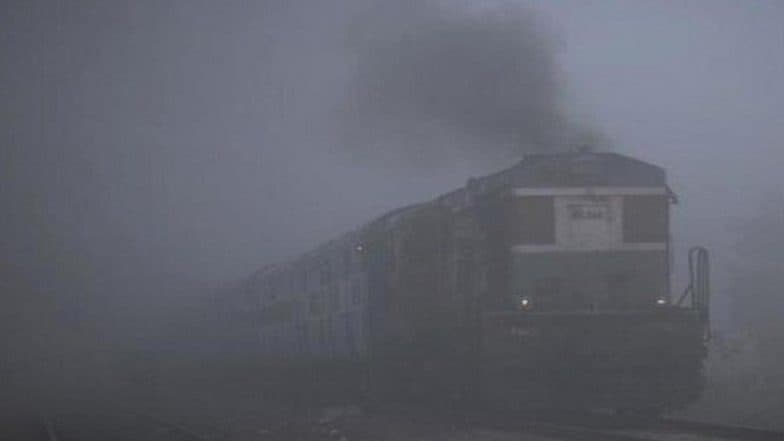 New Delhi, February 13: Dense fog has engulfed Delhi and its neighbouring areas. Due to the fog 14 Delhi-bound trains are running late. The trains which are running due to low visibility includes14055 Brahmaputra mail, 12561, Sainani Express, 12721 Dakshin Express and 18238 Amritsar-Bilaspur Chhattisgarh Express. Yesterday also 18 trains were delayed due to dense fog causing inconvenience to passengers. In the past few days, entire North India was engulfed with a blanket of fog. On Monday too, 17 trains to Delhi were delayed.
List of trains which are running late due to fog:
14 Delhi-bound trains are running late today due to fog/low visibility. pic.twitter.com/fWzUoXsYXu

— ANI (@ANI) February 13, 2019
Meanwhile, the northern parts of the country are in for another cold spell with the weather office predicting "a fairly widespread to widespread" rain or snow over Jammu and Kashmir and Himachal Pradesh from Wednesday till Friday and over Uttarakhand for two days from Thursday. The met office also said that "fairly widespread to widespread, light to moderate rain or thundershowers" would occur over Punjab, Haryana and Chandigarh from Wednesday for the next two days. There is also warning of heavy rain at isolated places over Punjab and north Haryana on February 14. Fog Leads to Accident in Jhajjar; 50 Vehicles Crash Into Each Other on Rohtak-Rewari Highway in Haryana, 8 Dead - Watch Video.
In Delhi and the National Capital Region too, it said that cloudy conditions with light rain or thunderstorm likely to occur from the night of February 13 for the next two days. Light rain and thundershowers accompanied with strong surface winds (30-40 kmph) and hailstorm at isolated places is most likely to occur over the region on February 14.
(With inputs from IANS)