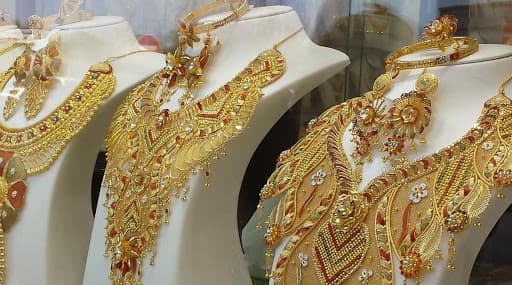 Mumbai, January 10: Gold price on Friday fell sharply after tensions between United States and Iran eased a little bit. The gold futures prices fell by 0.38 percent to Rs 39,680 for 10 gram each on the MCX index. This is the third consecutive day when the price of gold fell down. Not only gold, silver futures too fell by 0.34 percent to Rs 46,419 for a kilogram.
According to market experts, the ease in the escalating tensions between United States and Iran -- following the killing of Iranian Commander Major General Qassem Soliimani, the prices of gold and silver have come down in the international market. On Thursday, the price of gold was Rs 41,160 -- for 24 karat/10 gram, while it was Rs 40,160 -- for 22 karat/10 gram. Gold Rate Today: Gold Prices Still Above Rs 41,000 Per 10 Gram Mark Despite Donald Trump's Briefing on US-Iran Tensions
Considering the international market, the price of gold fell to USD 1,551, while the silver was flat at USD 17.89 per ounce. Experts opine the downfall in the prices of yellow metal would be affected by the global growth concerns. Market analysts, meanwhile, don't expect a rate cut from the US Fed in near term and expect that Fed's interest rate might be steady throughout 2020.
On the other side, the Indian Rupee value against US dollar stood at 71.14, amid easing of crude oil prices. In the opening trade on the last day of week's trade, Indian Rupee rose by seven paise. Earlier on Thursday, domestic unit had surged 48 paise to close at 71.21 against the US dollar.