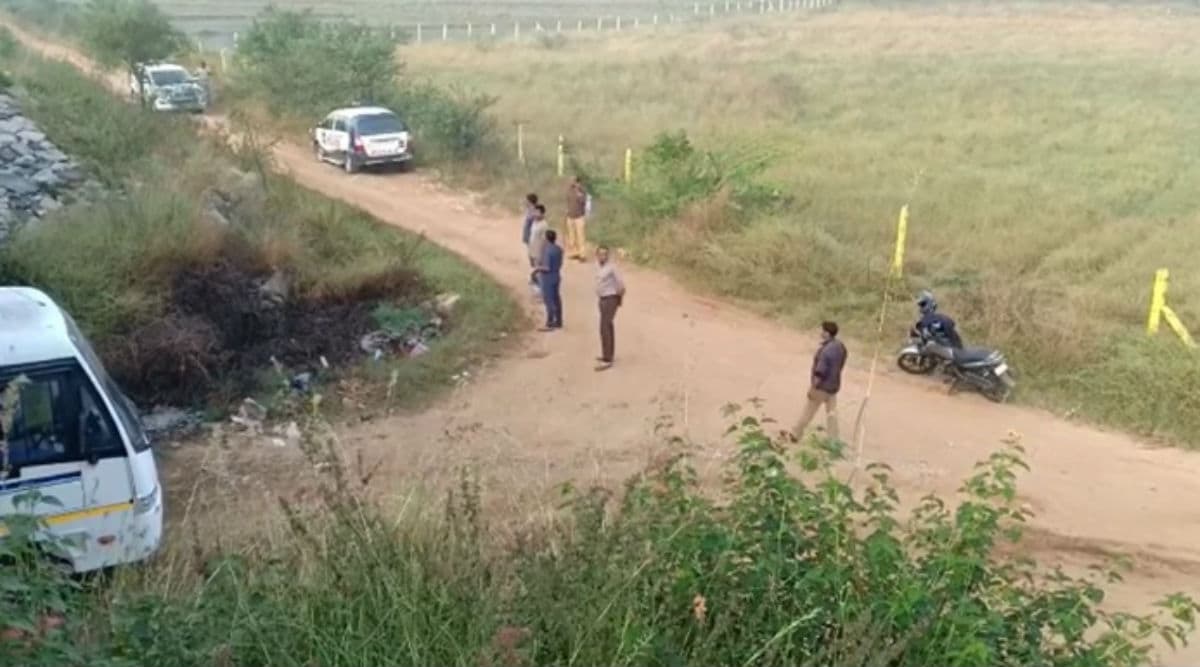 Hyderabad, December 6: In an early morning encounter on Friday, Telangana police gunned down all the four accused in the gruesome gangrape and murder of a 27-year-old veterinarian. The accused Mohammed Arif, Jollu Naveen, Jollu Shiva and Chintakunta Chennakeshavulu were killed at the same spot where they had dumped the victim's body and set it afire on the night of November 27 after gangraping her near Shamshabad on the outskirts of Hyderabad, media reports said. Hyderabad Vet Rape and Murder Case: Victim's Name Trends on Porn Websites in India and Pakistan.
All the four accused, who were arrested on November 29, were lodged Cherlapally Jail in Hyderabad. As part of the investigation, they were taken to the spot by the Cyberabad police for reconstruction of the crime scene in the early hours of Friday. According to the police, the accused were killed when they allegedly snatched weapons from cops and fired at them in a bid to escape. "In self-defence, the police fired back, in which the accused were killed," Cyberabad Police Commissioner V C Sajjanar said.
The 27-year-old veterinarian was sexually assaulted and killed near Outer Ring Road at Shamshabad. Her body was set ablaze and found under a culvert near Shadnagar town, about 25 km from Shamshabad. According to the police, the accused trapped the victim by deflating a tyre of her scooty near Tondapalli Toll Plaza and offered her help. The victim had called her sister and told her that she was scared as her bike was taken away from some unknown men to be repaired.
Locals Praise Telangana Cops:
#WATCH Hyderabad: 'DCP Zindabad, ACP Zindabad' slogans raised near the spot where where accused in the rape and murder of the woman veterinarian were killed in an encounter by Police earlier today. #Telangana pic.twitter.com/2alNad6iOt

— ANI (@ANI) December 6, 2019
Following the killing of the accused in the encounter, celebrations erupted at some places in Telangana where people hailed the police. At the encounter site, locals showered rose petals on cops. A massive protest was held outside Shadnagar police station on November 30 when the accused were about to be taken to court. A court on Wednesday had remanded the accused to police custody for seven days. Telangana government on December 4 had set up a fast-track court in Mahabubnagar for a speedy trial.
Locals Showers Rose Petals on Cops After Encounter:
Hyderabad: Locals had showered rose petals on Police personnel at the spot where accused in the rape and murder of the woman veterinarian were killed in an encounter earlier today pic.twitter.com/66pOxK1C2b

— ANI (@ANI) December 6, 2019
The gruesome rape and murder had triggered nation-wide outrage with people calling for the immediate death penalty to the perpetrators. Many demanded that the accused be hanged in public. Speaking in the Parliament, some MPs even called for lynching the perpetrators of the horrific crime.