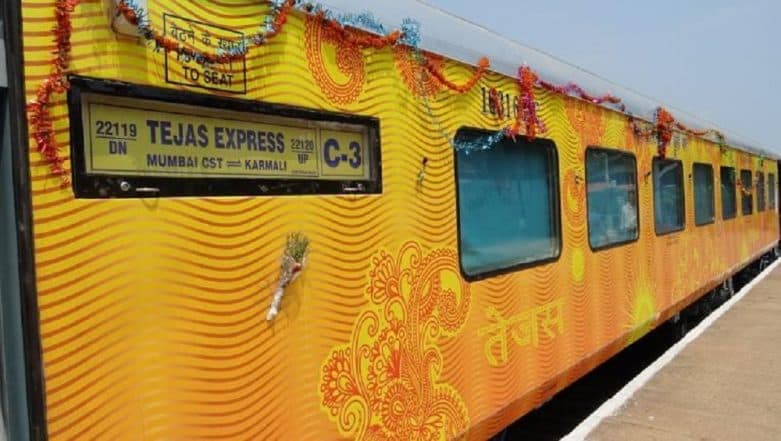 New Delhi, September 10: In some good news, passengers travelling on Tejas Express trains on the Delhi-Lucknow and Mumbai-Ahmedabad routes can enjoy many facilities including hotel bookings, taxi services and baggage pick and drop. Indian Railway Catering and Tourism Corporation (IRCTC) is offering these services. The IRCTC will also provide wheelchair facility to the needy. The initiative is part of a three-year pilot project to handover two trains to the IRCTC. Indian Railways New Timetable Released, Check Train Timings and Schedule.
Railway Board Chairman V K Yadav told media, "The IRCTC has come up with so many things. They can provide food of your choice, provide taxi facility from house to the station and station to the house, baggage services like picking up baggage from home to station, entertainment services, provide a wheelchair. They are free to do anything." Delhi-Lucknow Tejas Express Set to Be First Train to Be Run by Pvt Operators.
Yadav further added that the Indian Railways is working towards providing more facilities. The Railway Board chairman also hinted at inviting private companies to operate trains in the near future. He said that like Airport Authority of India (AAI) runs airport in which flights are operated by different aviation companies, similarly the Indian Railways is also mulling over inviting private players to operate trains. According to Yadav, with a view to ensure safety of passengers, locomotives and guards will be with the railways, but all on board services will be with IRCTC.
The Delhi-Lucknow Tejas Express was announced in 2016 but was introduced in the new time table released in July this year. The Delhi-Lucknow route is currently served by 53 trains but does not have a Rajdhani.
(With agency inputs)