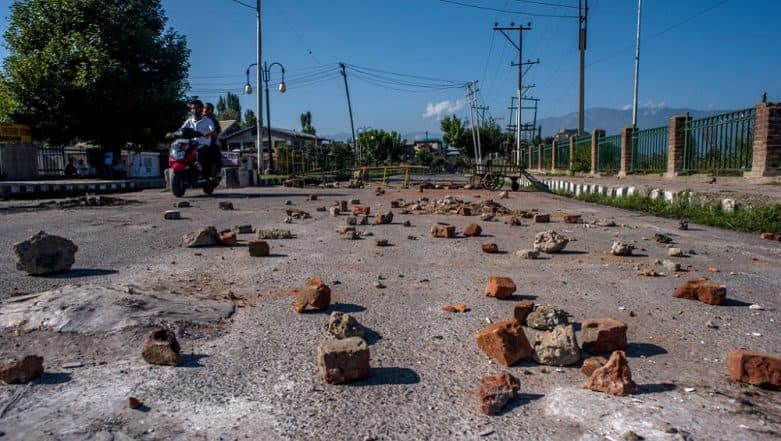 Srinagar, September 7: A militant activity was reported in North Kashmir's Sopore region in the early hours of Saturday. Preliminary reports claimed that armed insurgents resorted to firing in Dangerpora area of Sopore district, leaving at least four civilians injured. The victims include an infant baby girl, identified as Usman Jan. They are currently being treated at the nearest medical facility. 
The initial reports could not confirm whether an exchange of fire was underway between the militants and the security personnel. In the statement shared by Jammu & Kashmir police, it was only conveyed that four civilians have been left injured. The incident comes amid escalating tensions prevailing in the Valley over Article 370 revocation. Kashmir is Pakistan's 'Jugular Vein', Says PM Imran Khan.
Update by ANI:
Kashmir Zone Police: Terrorists fired and injured four persons including a baby girl ( Usma Jan) at Dangerpora in Sopore. All injured shifted to the hospital and stated to be stable. Police on the spot and investigation in progress. #JammuAndKashmir pic.twitter.com/9UFBWjucz1

— ANI (@ANI) September 7, 2019
This is the second major militant activity reported in Kashmir within the last fortnight. On August 26, A Gujjar tribal was reportedly killed by the armed insurgents in Pulwama, whereas another Gujjar was abducted from the same region.
Earlier, on August 20, a suspected militant was reportedly neutralised by the Indian forces in a security operation. The scale of crackdown against militants has reduced after Article 370 abrogation, with scarce reports of encounter emerging over the last one month.
Notably, the Kashmir Valley continues to remain on the edge after the Centre's decision to strip J&K's special status on August 5. Shops and establishments have remained closed, whereas, a communication blockade has been imposed by the government. The restrictions are aimed at minimising casualties by preventing the mobilisation of protesting groups -- which primarily uses mobile internet for galvanising youth.