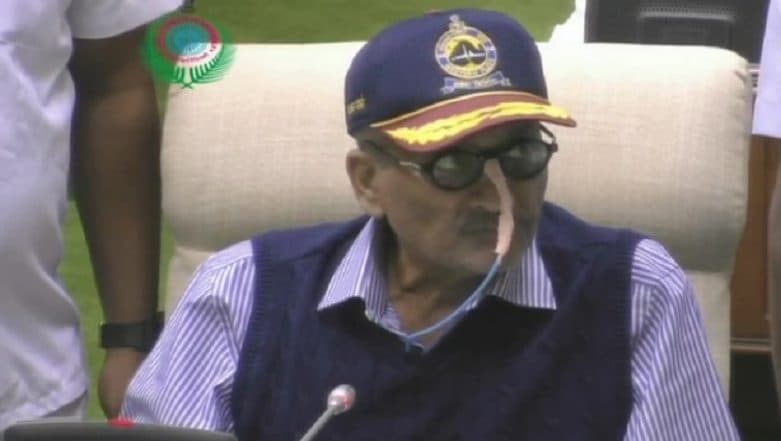 Panaji, February 1: Goa Chief Minister Manohar Parrikar was admitted to the Cancer department of the All India Institute of Medical Sciences (AIIMS) on Friday. He was hospitalised a day after he arrived at the premier healthcare facility for a check-up. The 63-year-old BJP veteran is reeling under pancreatic ailments since January last year.
According to news agency IANS, Parrikar is under the observation of Dr Atul Sharma, Oncologist, at the Dr. B.R.A IRCH (Institute Rotary Cancer Hospital) of AIIMS and will remain admitted for a few days. Manohar Parrikar Writes to Rahul Gandhi, Says 'No Mention of Rafale Deal In Our 5-Minute Meet'.
Parrikar has been under rigorous treatment over the last 12 months. After returning from a New York-based medical facility in May last year, the former Defence Minister was hospitalized at the AIIMS in June. He has subsequently been in and out of hospitals in Goa, Mumbai, Delhi and New York since then.
After severely restricting his public access, Parrikar addressed a gathering for the first time in over 8 months on Sunday, when he inaugurated a 5.1-km bridge in Mandovi along with Union Transport Minister Nitin Gadkari.
Strapped with medical appendage, a visibly weak Parrikar struck a chord with the listeners by quoting "How's The Josh" remark from recently released Bollywood film Uri: The Surgical Strikes.
Parrikar, earlier in the week, also presented the State Budget in the Goa Assembly. He was also in the centre of a political storm -- which erupted following Congress president Rahul Gandhi's visit to him in a personal capacity.
After the Gandhi scion said in public that Parrikar was not involved in the "new Rafale deal" inked by Prime Minister Narendra Modi, the ex-Defence Minister struck back. "I feel let down that you have used this visit for your petty political gains. In the 5 minutes you spent with me, neither did you mention anything about Rafale, now did we discuss anything related to it," he wrote in a letter.