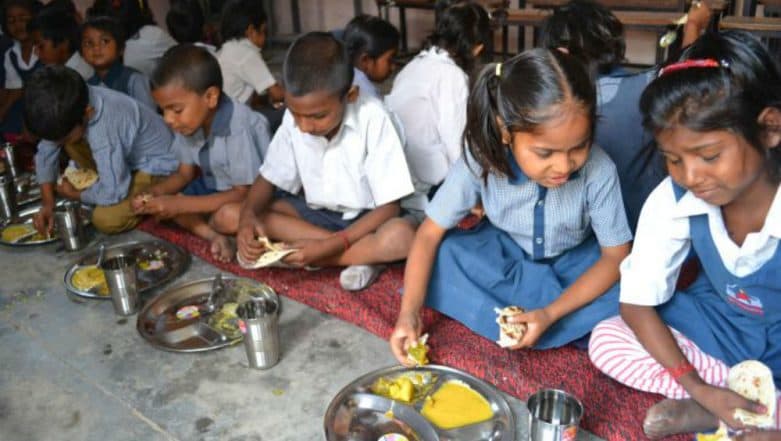 Kolkata, August 25: Days after students being served only rice and salt at a Hooghly school created uproar, another startling case involving the mid-day meal has been reported in West Midnapore. An anganwadi centre in the district's Charai village was serving food to children which had worms crawling over.
The anganwadi has been serving food to children under the Integrated Child Development Scheme (ICDS) of the central government. Residents of Charai village said two curries, of lentils and soyabean, were cooked in the anganwadi on Saturday. Both were spoiled and filled with worms, a parent alleged, adding that several children had consumed the meal before the villagers entered into the kitchen to check the food. After Facing Ire For Serving Salt and Rice in Mid Day Meal, West Bengal Govt to Now Serve Rice, Dal, Vegetable Curry and Fish to Students
The angry locals staged an agitation against the anganwadi centre, demanding free treatment for their children along with suspension of officials in-charge of the mid-day meal programme in their block. They also sought action against the cook for preparing and serving stale food.
Dipanwita Patra, block development officer, Dantan II block, said a medical team was rushed to Charai village to conduct a check-up of the children. While none among them are said to be infected with food-poison, the administration has taken the issue with seriousness.
An inquiry has been ordered, Patra said, adding that action will be taken against people found responsible for the negligence. Ashmita Pandit, who cooks the food at the anganwadi, has cried innocence, claiming that the raw materials she had used for food preparation were not stale. "Don't know where the worms came from," she told reporters.