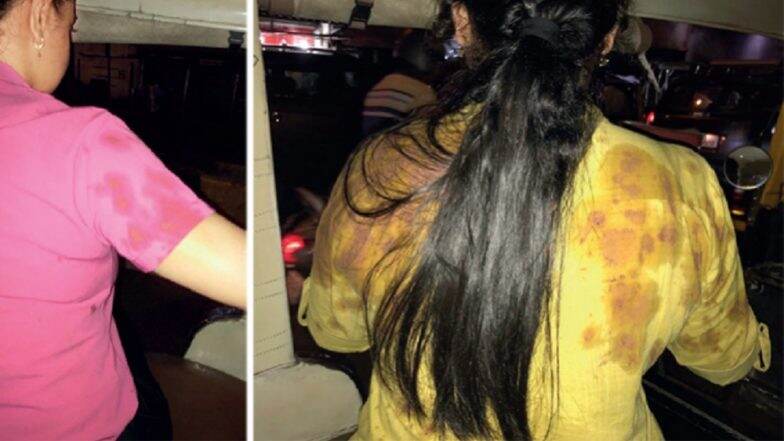 Mumbai, Aug 25: In an incident which puts Mumbai to shame, two women waiting for train at the Borivali station were spat on by commuters travelling in the Andheri-Virar local on the Western line.
The Mumbai Police, which was tagged on Twitter by the victim, has taken cognizance of the incident. A formal complaint has been lodged, the police said, adding that efforts would be taken to identify the culprits.
The incident was reported on Wednesday, when 24-year-old Sanjana Rao, along with her friend were returning from work. While they were walking towards the stairs of platform no 7, commuters on the Andheri-Virar spat gutkha on them.
Rao narrated her ordeal on Twitter:
This is exactly how a daughter of this country is being treated! This is how a totally random person, hanging on the 9:52 pm Andheri-Virar local train's door, choose to show some respect towards us. Yes, by spitting #Gutka on us. @MumbaiPolice #Mumbai #MeToo pic.twitter.com/8bZf1WIF6Q

— Sanjana Rao (@Sanjanarao_) August 23, 2018
My friend and I were returning home after long working hours and the moment we got down at Borivali station, a person hanging on the door of 9:52pm Andheri-Virar local spat #Gutka on us. I mean, how low can a person fall? Should we tolerate this? @MumbaiPolice @WesternRly #Metoo pic.twitter.com/kvirAC27ds

— Sanjana Rao (@Sanjanarao_) August 23, 2018
While speaking to reporters, Rao said she was subjected to a similar torment two years ago. She had then refrained from reaching out to the authorities considering that the gutka chewers may not have seen her at the platform.
However, Rao claims that she is sure that the miscreants this time intently spat on her.
She has appealed the government to take appropriate measures to deal with gutka chewers on trains and Railway platform. Rao said a ban would be the only solution, with authorities strictly implementing it.