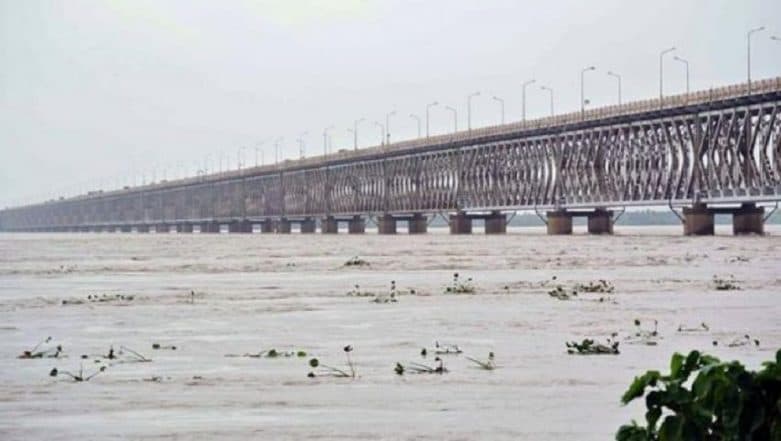 Dibrugarh (Assam), December 25: Prime Minister Narendra Modi will soon inaugurate India's longest railroad bridge – Bogibeel Bridge – in Dibrugarh in Assam on the 94th birth anniversary of former premier and Bharat Ratna awardee Atal Bihari Vajpayee.
Though former PM HD Deve Gowda did the foundation stone of the 4.94-km long double-decker bridge on January 22, 1997, the work commenced on April 21, 2002, under Vajpayee-led government. With this Rs 5,900 crore project, the travel time between Delhi and Dibrugarh would decrease by three hours and journey from Assam to Arunachal Pradesh would reduce to four hours. Bogibeel Bridge, India's Longest, to be Inaugurated by PM Narendra Modi on December 25 in Assam; Here's All You Need to Know.
Watch Video:
Also, this would be the fourth bridge that the Union government has made across the 4,000-km-long India-China border. This rail-cum-road bridge is first in India which adhered to European welding standards and has a serviceable period of 120 years. The bridge consists of 39 girders of 125 metre and two girders of the 33-metre span. For the railway tracks the girders have steel floor system, and for the three-lane road, concrete has been used – considered to have been constructed for the first time in the country.
Consisting of two railway tracks and three lanes for road transportation, this is the longest railroad bridge which bet Vembanad Rail Bridge in Kerala (4.62-km). It is expected that the first train would cross the bridge at around 11 am on Tuesday.