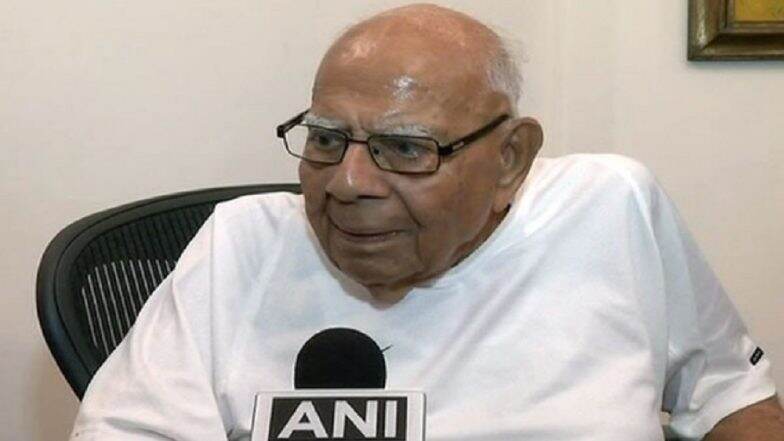 New Delhi, September 8: Eminent lawyer and former Union Minister Ram Jethmalani died in the early hours of Sunday. The eminent lawyer, aged 95, was suffering from health-related ailments over the past few months. Since the last two weeks, he was kept on round the clock medical help. Jethmalani is survived by his son and noted advocate Mahesh Jethmalani and a US-based daughter. His other daughter Rani Jethmalani had passed away in December 2011. Catch all the live breaking news here.
Jethmalani served as an advocate and an active member of the Bar Council till 2017. He had retired two years ago, after completing more than seven decades in legal circles. Considered a veteran in the realm, Jethmalani had handled several high-profile cases, including the Harshad Mehta Scam and Narasimha Rao bribery case.
Update by ANI:
Veteran lawyer Ram Jethmalani passes away at his residence in Delhi. He was 95 years old. (file pic) pic.twitter.com/Utai8qxxh4

— ANI (@ANI) September 8, 2019
Jethmalani had served as the Union Law Minister during the Atal Bihari Vajpayee-led NDA government. He has been a multi-term member of the Rajya Sabha, representing the Bharatiya Janata Party (BJP) on most occasions. In 2012, however, he was expelled from the saffron camp after being charged of anti-party activities. The lawyer-politician was critical of the BJP's alleged silence on the issue of corruption when the movement against graft was being led by activist Anna Hazare.
In 2016, after Jethmalani's tenure in the Rajya Sabha expired from Rajasthan, he was nominated to the Upper House by the Rashtriya Janata Dal (RJD) from Bihar. Jethmalani, at the time, was also representing RJD supremo Lalu Prasad Yadav in the fodder scam case.
Notably, Jethmalani was born in the pre-partition India, on September 14, 1923. His birthplace is Shikarpur in Sindh province, which now lies in Pakistan. At the age of 17, he had migrated to Bombay and studied LLB. He started practicing from the age of 20. His stint in politics began in 1975, when he was severely critical of the then Prime Minister Indira Gandhi when she imposed national emergency.