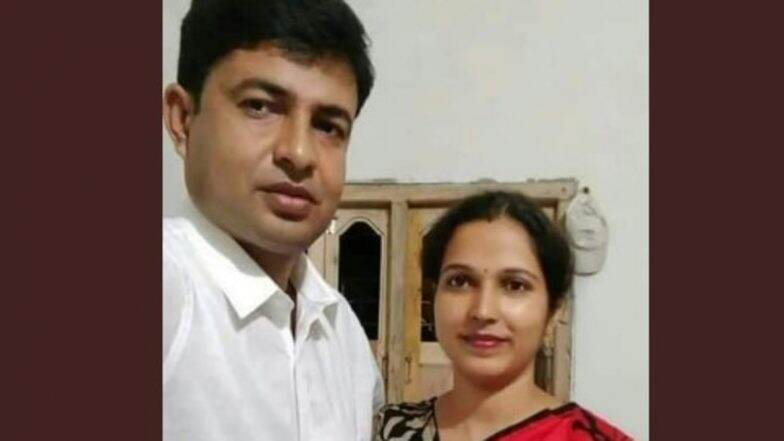 Murshidabad, October 10: In a shocking incident, a 35-year-old Rashtriya Swayamsevak Sangh (RSS) worker, his pregnant wife and their six-year-old son were found murdered on Tuesday in West Bengal's Murshidabad district. The bodies of Bandhu Prakash Pal, a primary school teacher, his wife Beauty, and young son Arya were found in a pool of blood in their resident in Jiaganj. NCW Chief Rekha Sharma Slams West Bengal Government, Administration Over Murder of RSS Worker, Family.
West Bengal RSS secretary Jishnu Basu, speaking to news agency ANI, said that Bandhu Prakash was an RSS member and was recently associated with a "weekly milan (meeting)". Photos and videos of the West Bengal family lying in the blood-spattered home have flooded social media. BJP National Spokesperson Sambit Patra also Tweeted photos and videos of the crime spot.
"Gruesome video This has shaken my conscience ...a RSS worker Bandhu Prakash Pal, his eight months pregnant wife and his kid were brutally slaughtered in West Bengal's Murshidabad Not a word by the liberals Not a letter by 59 liberals to Mamata Nauseating Selectivism," Sambit Patra tweeted.

So far no arrest has been made in connection with the case. The crime came to light when the neighbours, worried about the family's absence at a puja pandal on Dusshera or Vijayadashmi and went to their residence. "The locals informed the police and the bodies, lying in a pool of blood, were found," said a police official, according to the Press Trust of India.
The family had reportedly moved to the city two years ago. Bandhu Prakash's cousin Sujoy Ghosh told ANI that the family had shifted to Murshidabad for their son's education. "We do not know if they had any problem with anyone," he said.