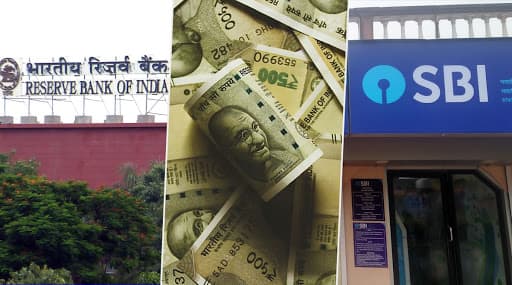 December 10, Mumbai: A week after maintaining the status quo on policy rates in its fifth bi-monthly monetary policy review of the financial year, Reserve Bank of India on Tuesday released a risk assessment report stating State Bank of India (SBI) under-reported bad loans by Rs 11,932 crore in FY19 (FY 2018-19). On October 9, a shocking revelation arrived that the Indian banking system has lost Rs 1.76 lakh crore on account of writing off non-performing loans of 416 defaulters since 2014-15.
According to the latest risk assessment report by RBI -- released on Tuesday -- SBI itself had accepted that the divergence in provisioning for these non-performing assets (NPAs) or bad loans stood at Rs 12,036 crore in FY19. Stating more, SBI in its regulatory filing mentioned that if it had taken RBI's findings into accounts, the central bank would have reported a net loss of Rs 6,968 crore instead of its reported profit of Rs 862 crore for the aforesaid period. NPAs Cost Indian Banks, Rs 1.76 Lakh Crore Lost in 3 Years Due to Waiving Loans of Defaulters, Reveals RBI Report.
Apart from this, SBI even mentioned the bad loans during the third quarter for FY20 (FY 2019-20) is estimated at Rs 3,143 crore, while the remaining impact on provisioning is seen at Rs 4,654 crore for Q3 FY20. It is to be known that when a bank's and RBI's assessments differ, divergence in provisions and bad loans arise.
Earlier October, the country's market regulator Securities and Exchange Board of India (Sebi) had asked the publicly traded banks to disclose bad loan divergences with the RBI's assessment. In the report, SEBI had asked the banks to disclose the amount within a day of receiving a final report from the banking regulator. Banks had also been directed to reveal details of non-performing assets (NPAs) if it were more than 15 percent of their reported NPAs. RBI Keeps Repo Rate Unchanged at 5.15%, Reverse Repo at 4.90% & Bank Rate at 5.40%.
However, with the current economic crisis gripping the country, RBI in an RTI revealed in October that the scheduled commercial banks laid off a total of Rs 2.17 lakh crore between 2015 and 2018, which were considered as bad debts. Also, the report states that around Rs 40,798 crore -- taken by 109 unique borrowers -- were written off. Apart from this, the number of unique borrowers raised to 199 as on March 31, 2016, whose Rs 69,976 crore amount were written off.