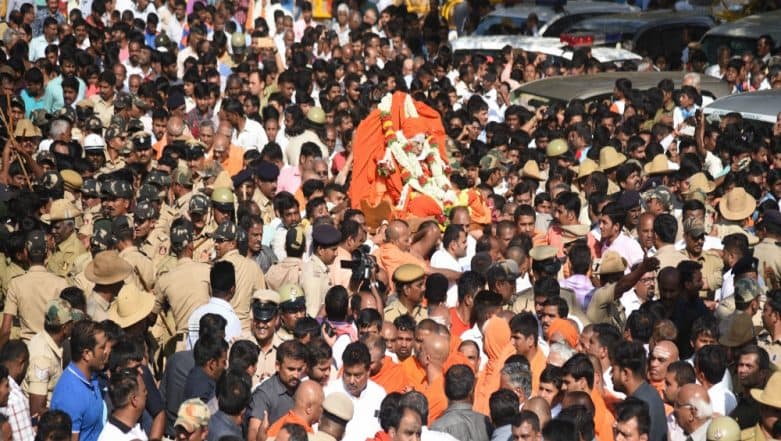 Bengaluru, January 22: Sri Shivakumara Swamiji, one of the tallest Lingayat seers in the nation, was laid to rest with full state honours on Tuesday in Tumakaru, located close to the Karnataka capital. Thousands of his followers rushed to the town to attend the funeral ceremony. Leaders cutting across party lines, including Chief Minister HD Kumaraswamy and BS Yeddyurappa, paid their final homage to late spiritual preacher of the Siddaganga Mutt.
Ahead of the cremation, the a wreath was laid on behalf of the Centre by Union Ministers Nirmala Sitharaman and Sadananda Gowda. Prime Minister Narendra Modi, who paid tributes to the deceased spiritual head on Twitter yesterday, also spoke on the influence of Swamiji on his life while addressing the Pravasi Bhartiya Divas event in Varanasi. Karnataka's 111-Year-Old Seer Shivakumara Swami Passes Away, 3-day Mourning Announced.
"He treated me like a son...His contribution would always be remembers," PM Modi said, shedding light on the near-eight decades of Swamiji's public service -- which included development of several schools, healthcare centres and shelter homes for the poor.
A Look Back at the Life of Shivakumara Swamiji:
Born on April 1, 1907 at Veerapura in Magadi Taluk near here to Honnappa and Gangamma as Shivanna, he was among the 12 siblings. Losing his mother at the age of 8 is said to be one of the reasons for transformation in Shivanna's behaviour, that turned spiritual.
After completing primary education at his native village and Nagavalli, the Swamiji completed his matriculation in Tumakuru,before coming here for Bachelor of Arts degree with Physics and Mathematics as optional Subjects.
Shivakumara Swami took over as the "peetadhipathi" (pontiff) of Siddaganga mutt succeeding his Guru Sree Sree Uddana Shivayogigalu Shivakumara Swami and reigned over the seminary for about 76 years. During the seven decades, he founded Sri Siddaganga Education Society under which thousands of students, mostly from villages and underprivileged sections, are being educated in both traditional and modern learning. Proficient in Kannada, English and Sanskrit, he was known for strict discipline.
A noted religious figure and humanitarian, Shivakumara swami performed "trikala Linga pooja" according to Virakta tradition of Veerashaivism until recently, even during his hospitalisation.
He even taught English and Sanskrit at the Mutt's institutions and his students are scattered across the world in high positions.
TheSwamji's staff have often cited his organised life style, scientific diet plan, graceful humility and blissful simplicity in life, along with hard work as the secret of his long life.
He was also strongly devoted to the cause of farmers and agriculture by organising cattle and agri fairs.
He has been conferred the honorary "Doctor of Letters" Degree by the Karnatak University, Dharwad.
It is said that during his graduation, Shivanna had gone to Siddaganga mutt to perform the last rites of Marularadhya, who would have been the next head of the mutt, when the then senior pontiff Uddana Shivayogigalu announced him as his successor.
He was formally initiated into the holy order as a successor in March 1930, thus joining the lineage of sages that is said to have its traditions dating back to 1300 A.D.
The Swamiji who has several laurels and awards to his name was bestowed with the prestigious "Karnataka Ratna", the state's highest civilian award, and "Padma Bhushan". There is now a clamour from people of different walks of life, including politicians, for conferring "Bharat Ratna" on him.
(With PTI inputs)