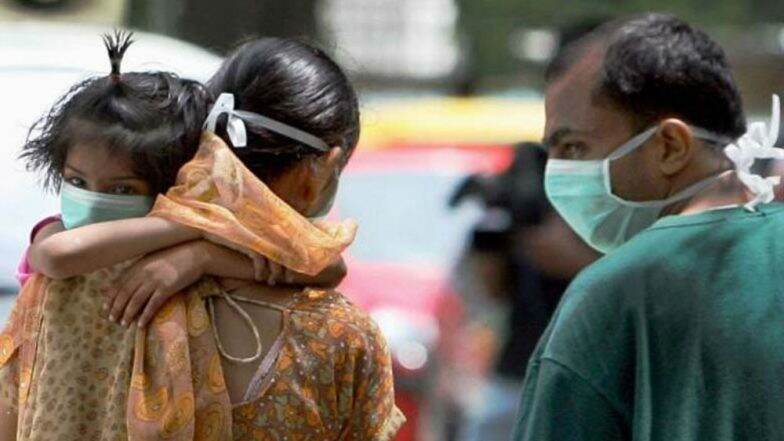 New Delhi, February 12: Swine flu cases are on a rise across the country, with 112 deaths reported from Rajasthan alone in a span of over a month. According to data issued by the Health Department of Rajasthan, as many as 79 fresh Swine flu cases were detected in the state on Monday. Reports inform that five people died of the H1N1 virus- one each in Barmer, Jaisalmer, Jaipur, Udaipur, and Chittorgarh. With this, the death toll due to swine flu in the state spiked to 112 from January 1 to February 11. Swine Flu Outbreak in Rajasthan. 
The viral infection has affected 9,367 people in the country so far with Rajasthan reporting 112 deaths and over 2,941 cases of people infected by the virus. Rajasthan is then followed by Gujarat at 55 deaths and 1,431 people being infected. Meanwhile, Punjab has reported 30 deaths and 335 cases followed by Madhya Pradesh, which has reported 22 deaths and 98 cases. Swine Flu: Symptoms, Causes and Treatment; Home Remedies To Prevent H1N1 Virus. 
In Maharashtra, swine flu took lives of 17 people and nearly 204 people were affected. Delhi so far has witnessed seven deaths due to the H1N1 virus and 1,669 cases of infection, followed by Haryana recording seven deaths and 640 cases. However, Telangana has recorded five deaths and 424 cases of infection.
Amid the mounting cases of the H1N1 infections across the nation, the state government have issued a health advisory, prescribing the do's and don'ts. The advisory states that seasonal influenza (H1N1) is a self-limiting viral, airborne disease spread from person to person, through large droplets generated due to coughing and sneezing, indirect contact by touching a contaminated object or surface and close contact, including handshaking, hugging and kissing. Swine Flu Outbreak in India: H1N1 Virus Claims 40 Lives in Rajasthan; Gujarat, Delhi and Haryana Affected Too.
The Health Ministry has advised states to involve district collectors in enhancing public awareness and outbreak response. Meanwhile, the Drug Controller General of India has been asked to coordinate with drug manufacturers and monitor the availability of Oseltamivir, the medicine recommended by WHO, in various states.