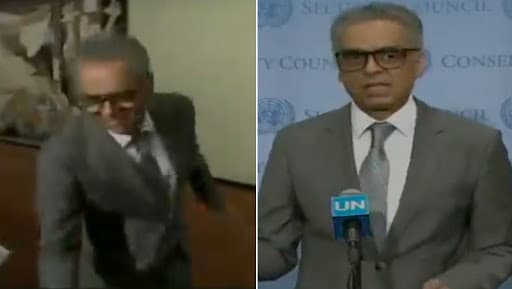 New York, August 17: Hours after the United Nations Security Council closed-door meeting ended in New York, India's Ambassador and Permanent Representative to the UN Syed Akbaruddin extended 'the hand of friendship' to three Pakistani journalists on Friday. Through his friendly gesture, he is being applauded worldwide, as he requested the three Pakistani journalists to shoot their questions during the press conference.
Soon before answering the questions of the Pakistani journalist, Akbaruddin stepped away from his podium and walked up to the reporter and shook his hands. He said, "Let me begin by coming across to you and shaking your hands." This gesture was in return to the question asked, "When will you begin a dialogue with Pakistan?" Later, Akbaruddin shook hands with two other Pakistani journalists. UNSC Meeting on Jammu and Kashmir: Russian Envoy Suggests 'Bilateral' Solution, India's Ambassador Syed Akbaruddin Says 'Committed to Removing All Restrictions From J&K'
Here's the video:
#WATCH: Syed Akbaruddin, India's Ambassador to UN says,"so, let me start by coming across to you and shaking hands. All three of you," to a Pakistani journalist when asked,"when will you begin a dialogue with Pakistan?" pic.twitter.com/0s06XAaasl

— ANI (@ANI) August 16, 2019
After shaking the hands, Akbaruddin returned to the podium and said, "Let me tell you, we've already extended our hand of friendship by saying we are committed to the Simla Agreement. Let us wait for a response on that from the Pakistani side."
Asked on why there was no contact between the neighbours and why India had not responded to requests for talks, India's Ambassador said, "Stop terror to start talks." Adding more, India's Permanent Representative to the UN stated that Pakistan was trying to project an alarmist approach to the situation which is far from ground realities.
Earlier, the five permanent members - USA, United Kingdom, France, China and Russia - sat on Friday night to discuss the New Delhi's move to end special status for Jammu and Kashmir. Following the meeting, the members requested both the neighbours to solve the Kashmir through bilateral dialogues. While, India has maintained that its position was and remains that matters related to Kashmir are 'entirely an internal matter'.