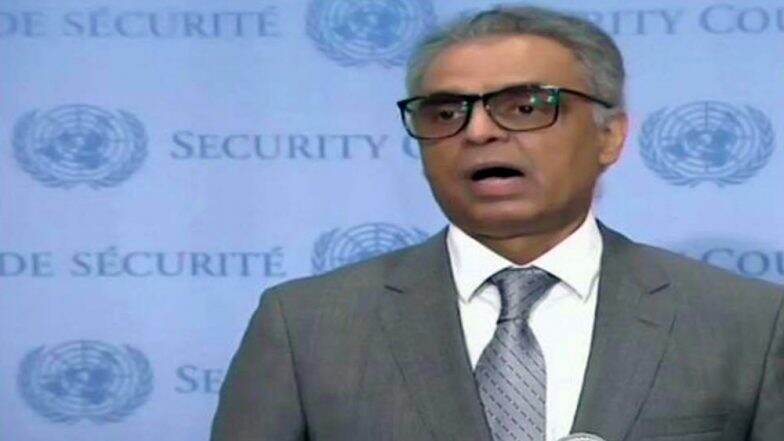 New York, August 16: The UN Security Council meet held on Friday to discuss the issue of India abrogating Article 370 in Jammu and Kashmir fetched little for Pakistan as the global body suggested a "bilateral" solution, said reports. India also made it clear that in order for talks to begin with Pakistan, it will first have to "stop terror to start talks". The closed door meeting was attended by the UN Security Council nations, the five superpowers namely China, Russia, France, United Kingdom and the United States. Jammu And Kashmir, Ladakh to Become Union Territories Officially On Sardar Vallabhbhai Patel's 144th Birth Anniversary.
According to reports, Pakistan's "all weather friend" China said that the UNSC members are keeping a close eye on the Kashmir issue and that the Council is concerned with the issue of human rights in Jammu and Kashmir ever since the abrogation of Article 370 and bifurcation of the state of Jammu and Kashmir. UNSC to Hold Closed-Door Meeting Today to Discuss Article 370 Abrogation in Jammu & Kashmir.
Syed Akbaruddin, India's Ambassador and Permanent Representative to the UN Security Council, also released India's official stand and said that, "We're committed to gradually removing all restrictions. Since the change is internal to India, have not made any difference to our external orientation. India remains committed to ensure that the situation there (J&K) remains calm and peaceful."
Read His Comments in the Tweet Below
Syed Akbaruddin:We note that there were some who tried to project an alarmist approach to the situation which is far from the ground realities. Of particular concern is that one state is using terminology of 'jihad' against&promoting violence in India including by their leaders. pic.twitter.com/fIa4CRdb4G

— ANI (@ANI) August 16, 2019
"Our national position was and remains that matter related to Article370 of the Indian Constitution is entirely an internal matter of India," said Syed Akbaruddin.
Syed Akbaruddin insisted on India's sovereignty and cited the legislative authority while speaking on issues of policy making. "These have no external ramifications, the recent decisions taken by the Govt of India and our legislative bodies are intended to ensure that good governance is promoted, social economic development is enhance for our people in Jammu and Kashmir and Ladakh," added Syed Akbaruddin.