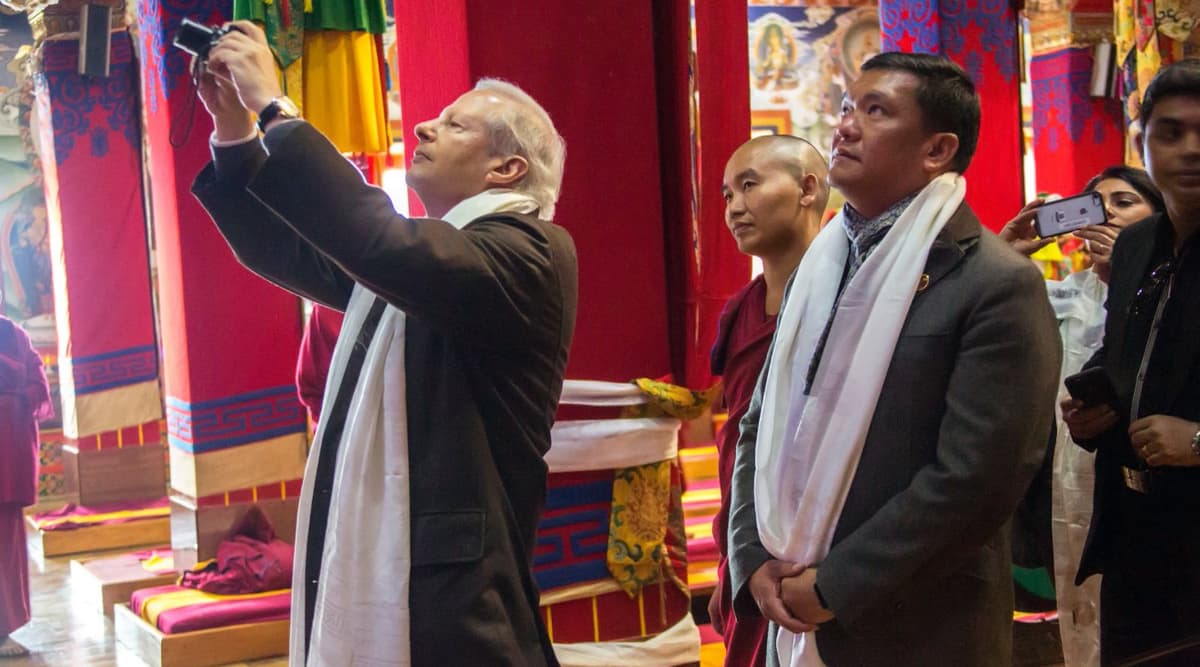 Tawang, October 28: In a strong message to China, India invited United States Ambassador Kenneth I Juster as a chief guest to inaugurate the four-day Tawang Festival 2019. Union Minister Kiren Rijiju and Arunachal Pradesh Chief Minister Pema Khandu were also present at the ceremony. Juster is currently a US ambassador to India. Consulate General of the United States in Kolkata, Patti Hoffman also attended the inaugural ceremony. China Built Bridge Near Chaglagam 60-70 Km Inside Indian Territory in Arunachal Pradesh, Says BJP MP Tapir Gao; Indian Army Denies Incursion.
Khandu shared a video of Juster inaugurating the four-day festival. In the video, Juster can be heard saying, "I hereby declare the seventh edition of the Tawang Festival 2019 open." In another tweet, the Arunachal Pradesh CM thanked the US Ambassador for attending the function as a chief guest. Rijiju also retweeted Khandu's tweet. The Union Minister also tweeted a video of Bihu dance being performed during the festival. Army Has Managed Situation Well Along China, Pakistan Borders, Says Chief Bipin Rawat at Annual Press Conference.
Prema Khandu's Tweets:
A pleasure to have with us US Ambasador to India Mr. Kenneth I. Juster and Consul General Patti Hoffman at Tawang. A tour of #Tawang Monastery and War memorial this afternoon. @adgpi pic.twitter.com/eAMYKthtwV

— Pema Khandu (@PemaKhanduBJP) October 28, 2019
United States Ambassador to India Mr Kenneth I Juster declares the 4-day #TawangFestival open. Thank you Mr Kenneth for your kind presence today as Chief Guest for the occasion. @PMOIndia @KirenRijiju @ArunachalTsm @tourismgoi @incredibleindia pic.twitter.com/qv5bp7fa4Q

— Pema Khandu (@PemaKhanduBJP) October 28, 2019
The festival is celebrated every year the Tourism Department of Arunachal Pradesh. The festival is considered as a platform for many religious events, traditional and tribal dances. Exhibition of crafts and arts by the tribes, hand-loom products, photography exhibition and paintings are also part of this festival. During these four days, local tribes welcome tourists with humble respect so that they get acquainted with their culture.
Kiren Rijiju's Tweet:
Bihu is mesmerising the people at Tawang Festival which is going on now... North East India is simply amazing! pic.twitter.com/JQnOYsOIhM

— Kiren Rijiju (@KirenRijiju) October 28, 2019
Juster's presence as a chief guest in the Tawang festival can be considered as strong message for China who claimed Arunacahl Pradesh as part of South Tibet. Chinese forces had intruded into the Indian Territory in Arunachal Pradesh many times in the past. Recently reports had surfaced that China built a wooden bridge near Chaglagam, a village in Arunachal Pradesh's Anjaw district.
Earlier this year, China had  condemned Prime Minister Narendra Modi's visit to Arunachal Pradesh to inaugurate and lay the foundation of vital development projects. China's foreign ministry in a statement had warned India to refrain from any actions that intensify disputes and complicate the border issue.