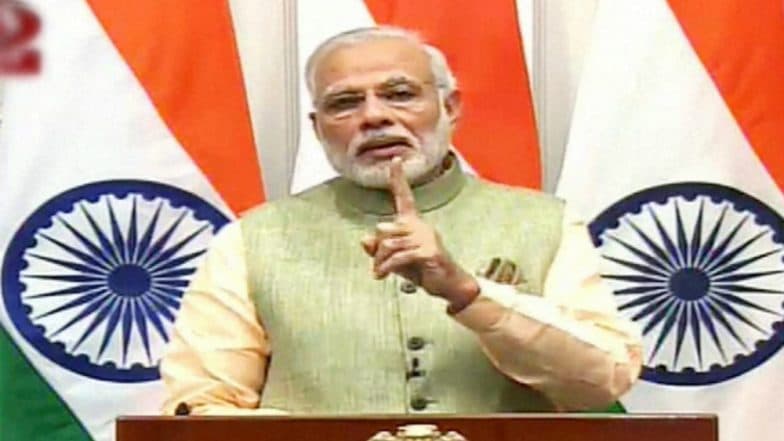 Itanagar, February 9: China on Saturday condemned Prime Minister Narendra Modi's visit to Arunachal Pradesh to inaugurate and lay the foundation of vital development products, reported Reuters. China's foreign ministry in a statement warns India to refrain from any actions that intensify disputes and complicate the border issue. China always claimed Arunachal as part of South Tibet. Last year in May, reports also surfaced that the red dragon was carrying out large scale mining operations in the Himalayas next to the Indian border in Arunachal Pradesh. Experts believed that China was carrying out mining activities in the area to capture the Indian state. Communist Party Of China's News Portal Claims Arunachal Pradesh as Indian State, Story Dropped Later.
Last year, ministry of foreign affairs (MFA) spokesperson Geng Shuang said that China's position on the border issue was clear and consistent and it never acknowledged the existence of 'so-called' Arunachal Pradesh. Earlier too, China had criticised Prime Minister Narender Modi's visit to the state In February and warned of lodging a diplomatic protest, Beijing had also objected to President Ram Nath Kovind visit to Arunachal Pradesh. China Defends Gold Mining in Lhunze County of South Tibet; China never Recognised 'So-Called' Arunachal Pradesh, Says Chinese Official.
In 2017, India and China were locked in an over two-month-long military stand-off near their boundary in the Doklam plateau in Bhutan. The stand-off began in June when Indian troops, in aid of their Bhutanese counterparts stalled road building by the Chinese Army in the area. However, after the stand-off, PM Modi and Chinese president Xi Jinping met several times last year to give a boost to the trade discussions.
Meanwhile, in a major development push in Arunachal Pradesh ahead of Lok Sabha elections, PM Modi today inaugurated and laid foundation stones of many vital schemes worth Rs 4,000 crore at a function in Itanagar. The Prime Minister laid the foundation stone of Greenfield Airport at Hollongi near the state capital, while inaugurated an upgraded and retrofitted Airport at Tezu.