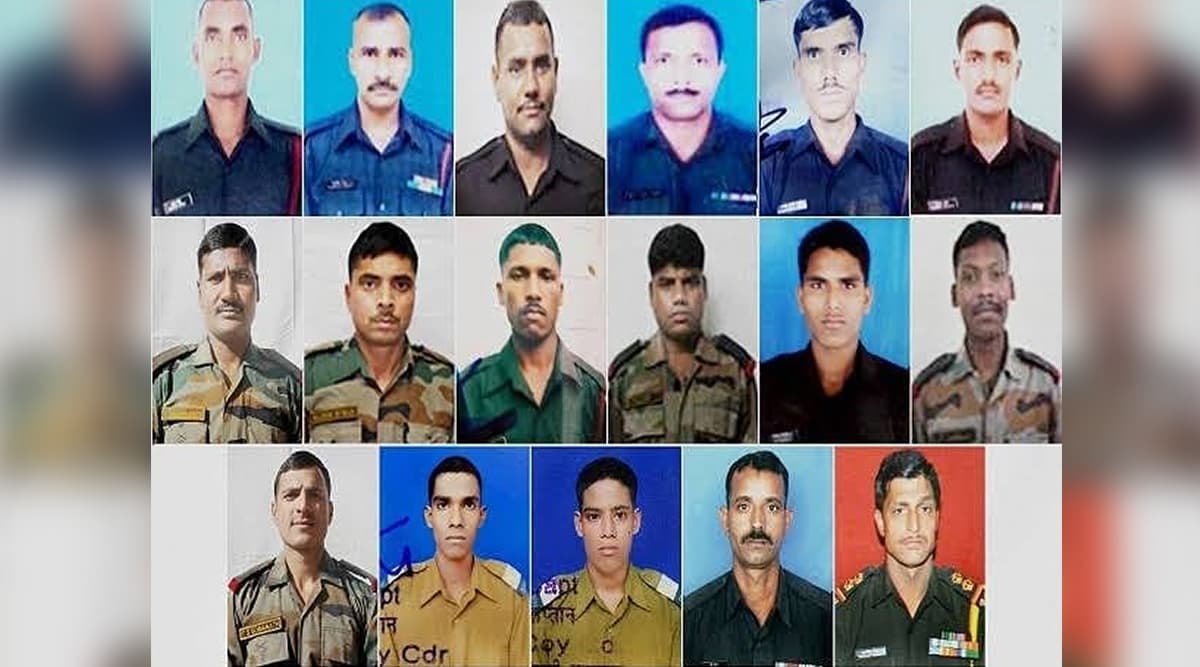 New Delhi, September 18: Twitterati paid rich tributes to the 19 martyrs of the Indian Army who were martyred in the dastardly Uri attacks carried out by terrorists who crossed the Line of Control (LoC) on September 18, 2016. Indian users on Twitter remembered the bravehearts on the third anniversary of the attacks that robbed the Indian Army of 19 personnel. It was one of the worst attacks on the Indian Army in time of no-war situation before the Pulwama terror attack claimed the lives of 40 security personnel on February 14, 2018.
In the wee hours of September 18, 2016, four heavily armed terrorists attacked a strategic location in the Uri town on the Indian Army personnel sleeping in the tents across a temporary fuel station.
The attacks shook the nation and shaped India's policy of no tolerance towards terror approach in days to come. It was around 5:30 am on 18 September, that four militants attacked an Indian Army brigade headquarters in Uri, near the Line of Control in early morning ambush. They lobbed 17 grenades in three minutes. The base camp with tents caught fire, killing army personnel during the attack.
Read the Tributes in the Tweet Below 
3 years since URI Attack happened

4 Terrorists attacked URI Camp and we lost our 19 Bravehearts,

Attack Sparked Surgical strike

Tribute to Bravehearts of URI

Never forget and Never forgive#UriAttack #Uri @adgpi @DefenceMinIndia @PMOIndia @rashtrapatibhvn pic.twitter.com/7P9KKuxBJT

— NARENDRA MAKODE (@narendradsvv) September 18, 2019
Remembering With Wet Eyes...
भारत माता के वीर सपूतों की शहादत को सलाम we remember & honour their services & sacrifice for Nation #JaiHind 🇮🇳#UriAttack 18/9/2016@INDIANARMY1858 @adgpi @ZeeNewsHindi @aajtak https://t.co/b1FRk3yJEN

— Durgesh Singh mertiya 🇮🇳🇮🇳🚩 (@Durgesh46043709) September 18, 2019
Those Who Lay Their Life For Motherland Are Never Fogotten
राह क़ुर्बानियों की न वीरान हो तुम सजाते ही रहना नये क़ाफ़िले

फ़तह का जश्न इस जश्न के बाद है ज़िंदगी मौत से मिल रही है गले

बांधलो अपने सर से कफ़न साथियों,

अब तुम्हारे हवाले वतन साथियों

कर चले हम फ़िदा…....🙏#UriAttack pic.twitter.com/c8jVyzDn43

— ROcky 🎸 (@ImROOcky) September 18, 2019
The Bravehearts Remembered
Rest in peace bravehearts, your supreme sacrifice cannot be forgotten & we and generations to come will remain indebted for what you have done for our country. JAI HIND 🙏🙏 #UriAttack #Uri https://t.co/z0DXzDZA1k

— 🇮🇳|𝐔𝐑𝐁𝐀𝐍 𝐃𝐄𝐒𝐈|🇮🇳 (@ashish_sawhney) September 18, 2019
Cowardly Attack Condemned by Citizens
When cowards attacked on #IndianArmy camp at #Uri, they attacked all codes of war & humanity. #OnThisDay in 2016, we lost our #BraveheartDevoutWarriors & they lost integrity. A humble tribute to the 18 who lost their lives. #UriAttack @adgpi @PMOIndia @HMOIndia @indiannavy pic.twitter.com/i3oRXqTX4M

— Dhanraj Nathwani (@DhanrajNathwani) September 18, 2019
Some 11 days after the attacks, the Indian security forces carried out Surgical strikes across the border and gave a befitting reply to the enemy. The strikes are now a part of Indian Armed forces folklore, known as Uri surgical strikes which also caught the attention of the cultural and art milieu in India.