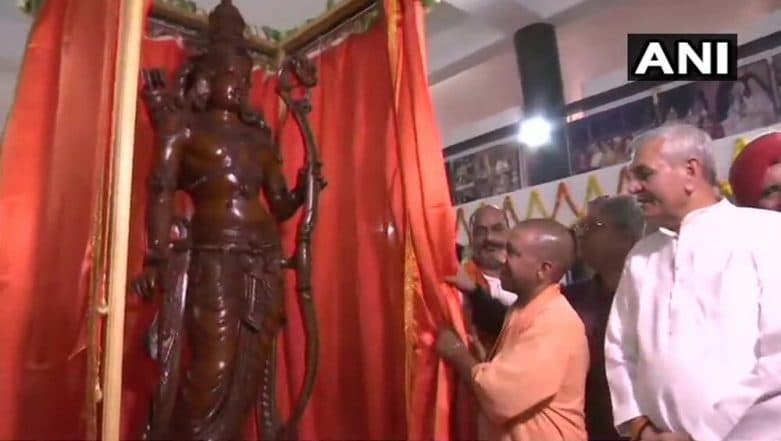 Ayodhya, June 7: Uttar Pradesh Chief Minister Yogi Adityanath on Friday unveiled a statue of Lord Ram at the Shodh Sansthan museum in Ayodhya. The statue, which is made of a single block of rosewood and purchased for Rs 35 Lakh from Karnataka, is seven foot tall. The statue will be on display at the Ayodhya Shodh Sansthan. 221-Meter Tall Ram Statue in Ayodhya Cleared by Yogi Adityanath: Here Are Blueprint Images of Proposed Tallest Statue.
The statue depicts Kodamb Ram, which one of the five avatars-Baal Ram, Raja Ram, Dulha Ram, Banvasi Ram and Kodamb Ram- of Lord Ram. Notably, the museum was having over 2,500 artefacts related to Lord Rama and his life, but it didn't have any piece depicting Kodamb Ram. Uttar Pradesh to Seek Gujarat's Support for Building Massive Ram Statue in Ayodhya.
Tweet by ANI:
Chief Minister Yogi Adityanath unveils a statue of Lord Ram at Ayodhya Shodh Sansthan pic.twitter.com/RWKBhDafpJ— ANI UP (@ANINewsUP) June 7, 2019
According to the government, the Lord Ram statue was purchased from the Karnataka State Arts and Craft Emporium (KSACE). The Ayodhya Shodh Sansthan, established in 1986, is a government-funded museum that hosts works related to Ramayana.
Meanwhile, Yogi Adityanath's visit was announced a day after the Shiv Sena on Wednesday said that the party supremo Uddhav Thackeray will visit the holy place next week on June 15.
Ayodhya, where Lord Ram was born, is the centre location of a decades-old dispute involving the site where Babri mosque stood before it was razed in 1992 by Hindu activists. According to the activists, the 16th-century mosque was built on the rubbles of an ancient temple.