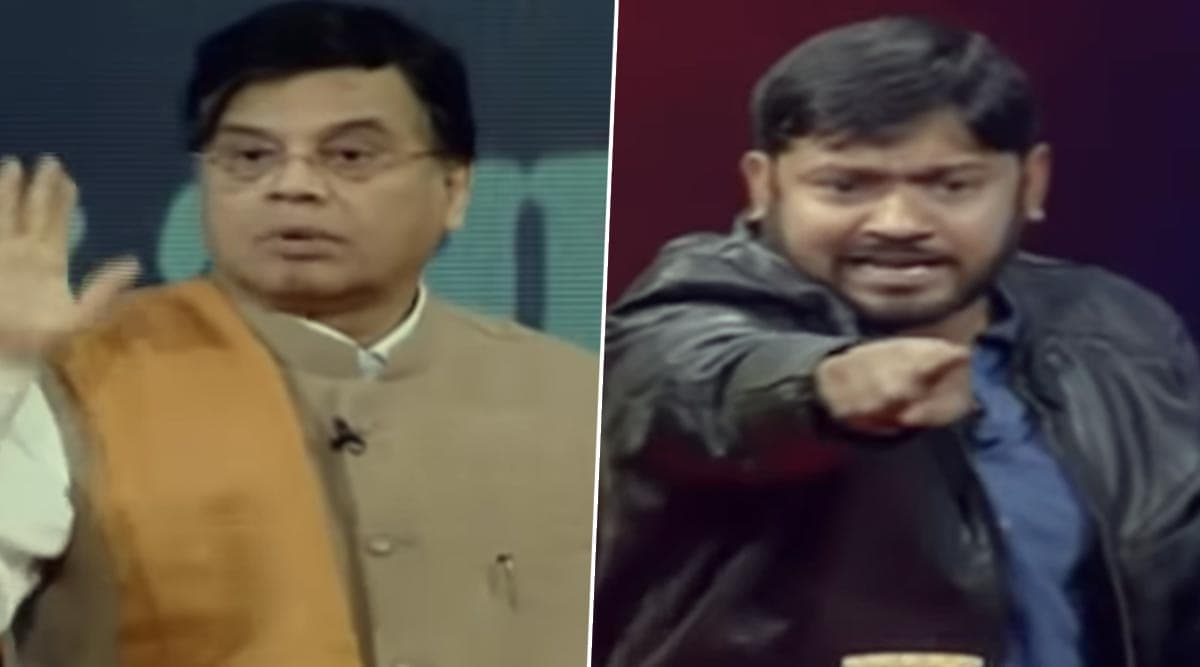 New Delhi, January 11: Bharatiya Janata Party (BJP) leader Amitabh Sinha, who appeared in a television debate against former JNU Students' Union leader Kanhaiya Kumar, ended up stoking a row. Days after his party lawmaker Pragya Singh Thakur landed in soup for supporting Mahatma Gandhi's assassin Nathuram Godse, Sinha said he is not opposed to him either. Pragya Singh Thakur Apologises For Her 'Godse Patriot' Comment in Lok Sabha.
Users on Twitter were outraged after the video, which shows Sinha saying that he is "not opposed to Godse", went viral. In the clip, Sinha and Kanhaiya could be seen sparring over their respective ideologies. When the BJP leader asks his CPI counterpart to say "Stalin Murdabad", the latter agrees, but also hits back asking whether he would say the same for Godse.
After Kanhaiya's repeated insistence that Sinha must clear his stand on Godse, the BJP leaded ended up saying that the issue is not revolving around Gandhi's assassin and that he is not opposed to him. Amid the ruckus, a person sitting in the audience ended up shouting, "Godse Zindabad (Long Live, Godse)!"
Here's How Twitterati Reacted
अबकि इन्होंने बोल ही दिया, आख़िर कब तक दिल की बात दिल में रखते @amitabhsinhabjp #GodseLoverBJP #AmitabhSinha

.

.

बहोत सही @kanhaiyakumar 👏🏻🔥 https://t.co/B2DXJaYRD1

— Taha Ansari (@TahaAnsari03) January 11, 2020
'Will PM Modi Forgive Sinha?'
Modi "ji" kabhi dil se maaf nahi kar payenge Amitabh Sinha "ji" ko. #Godse #IndiaToday #IndiaTodayExclusive https://t.co/gVlmoXxYtC

— Nikita Arora (@guks123) January 11, 2020
Apology Demanded
This is truly disgusting. @BJP4India's Amitabh Sinha must apologise for commenting on students in such obnoxious manner. This is not the way to target students or anyone for that matter. https://t.co/DZ420fTbQr

— Rohin Makkar (@rohino) January 11, 2020
Social media users also slammed Sinha for allegedly threatening Kanhaiya, by saying that the former JNUSU chief would be taught a lesson if he does not mend his ways. "Sudhroge nahi toh thoke jaoge," the BJP leader was heard as saying. Twitter users condemned India Today for allowing such language to be used on their show.
The way Amitabh Sinha arrogantly said and i quote"Sudhroge Nahi toh Thoke Jaoge" that's certainly not a civilised language and yes no doubt the follower of a party whose president was a Tadhipaar , they will obviously talk in such manner. Worried for @kanhaiyakumar already https://t.co/VgLclPR8Cv

— ABHINAV Kr. ARYA #TadipaarGunda (@GENEABHI) January 11, 2020
Watch Full Video of Amitabh Sinha vs Kanhaiya Kumar Debate on India Today
The controversy involving Sinha comes in the backdrop of Pragya Thakur, an accused in the 2008 Malegaon bomb blasts, had called Godse a "patriot". She had first issued the contentious remarks during her campaign trail for the parliamentary polls in April -- which had prompted Prime Minister Narendra Modi to say that he would "never forgive her". The remark was allegedly uttered by her in the Parliament in November this year. Pragya had, however, later claimed that she was referring to freedom fighter Udham Singh.