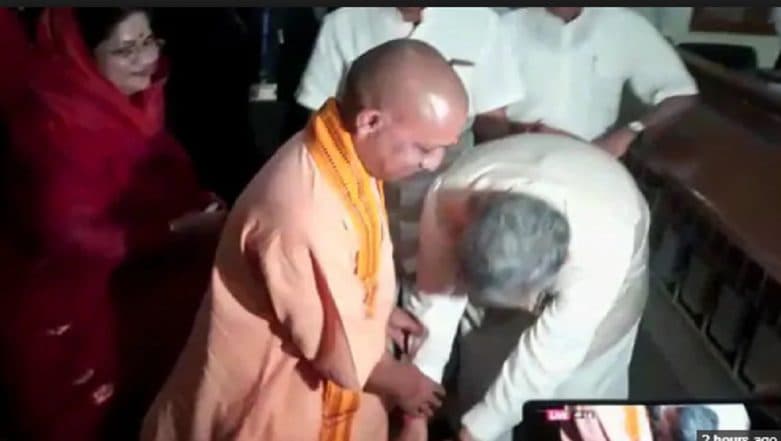 Raipur, October 23: Chhattisgarh Chief Minister Raman Singh caught the media by surprise when he bowed down to touch his Uttar Pradesh counterpart Yogi Adityanath's feet, before filing the nomination papers to contest from Rajnandgaon seat.
At the State Election Commission office (SEC), Singh was accompanied by Yogi, who is the star campaigner for the Bharatiya Janata Party (BJP) in the poll-bound state. Before submitting the affidavit, Singh turned towards the media and then descended to touch the UP CM's feet to seek blessings. Opinion Polls Predict 4th Term For BJP, Thanks to Mayawati-Ajit Jogi Alliance.
Notably, Yogi is the head priest of the Gorakhnath Mutt temple in Gorakhpur, apart from being the Chief Minister of India's most populous state. The saffron-robed leader is one of the most respected personalities in the BJP, as he heads a key religious institution, while being the tallest figure in UP politics.
However, a section of the media, along with the Opposition, will condemn Singh's action at the SEC office as Yogi is nearly 20 years younger to the incumbent Chhattisgarh CM.
Watch Video of Raman Singh Touching Yogi Adityanath's Feet:
Meanwhile, the poll pitch has escalated in Rajnandgaon where the Congress has fielded Atal Bihari Vajpayee's niece Karuna Shukla to take on CM Raman Singh. The contest has turned intriguing as former CM Ajit Jogi, who had earlier announced to fight against the Chief Minister, has backed out from the electoral battle in Rajnandgaon.
Raman Singh is seeking a fourth-term as the Chief Minister, having led the state continuously since 2003. Opinion polls have predicted a cliff-hanger contest, with the BJP poised to emerge at top with a slim majority -- owing to the coalition between Jogi's JCC, Mayawati's BSP and the CPI.