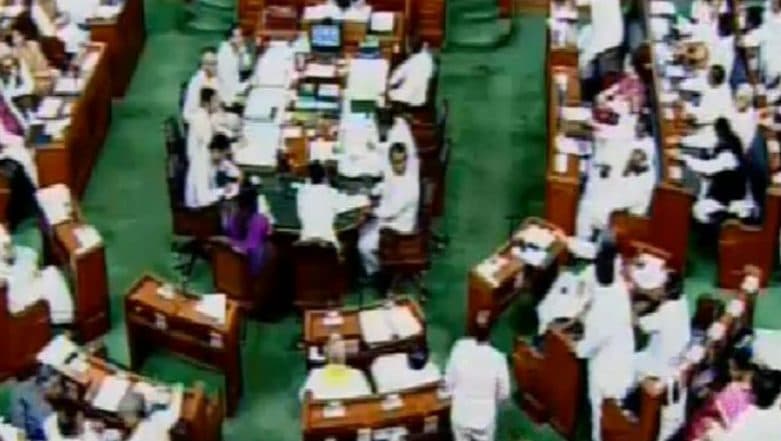 New Delhi, January 8: Citizenship Bill has been passed in Lok Sabha on Tuesday amidst protest from the opposition. The bill will now be tabled in the Rajya Sabha tomorrow. While speaking on the bill, Home Minister Rajnath Singh assured people of Assam that the Centre would protect their customs, tradition, linguistics and culture. The Home Minister further added that the burden of the bill would not only fall on Assam but the entire country. Singh also said that the politicians of the nation do not want religious persecution. Citizenship Bill Divides NDA, Shiv Sena, JD(U) to Vote Against Amendment.
Meanwhile, Bharatiya Janata Party (BJP) leader Meenakshi Lekhi said the demography of eastern India is changing due to illegal immigrants. However, All India United Democratic Front (AIUDF) chief Badruddin Ajmal opposed the bill. The bill has evoked strong protests in Assam. Other opposition parties on including Communist Party of India (Marxist) also opposed the bill. Parliament's Winter Session 2018-19 From December 11 to January 8, Recommends CCPA.
Earlier today, the protest over the Citizenship Bill turned violent in Assam. Protesters clashed with police. They also protested outside Chief Minister Sarbananda Sonowal's house at his native place in Dibrugarh. Protesters blocked national highways and damaged vehicles during the 11-hour northeast bandh. The Bandh was called by the All Assam Students' Union (AASU).
A large section of people and organisations in the northeast have opposed the bill saying it will nullify the provisions of the Assam Accord of 1985, which fixed March 24, 1971, as the cut-off date for deportation of illegal immigrants irrespective of religion. Even the governments of Meghalaya and Mizoram have strongly opposed the bill and adopted resolutions against it.