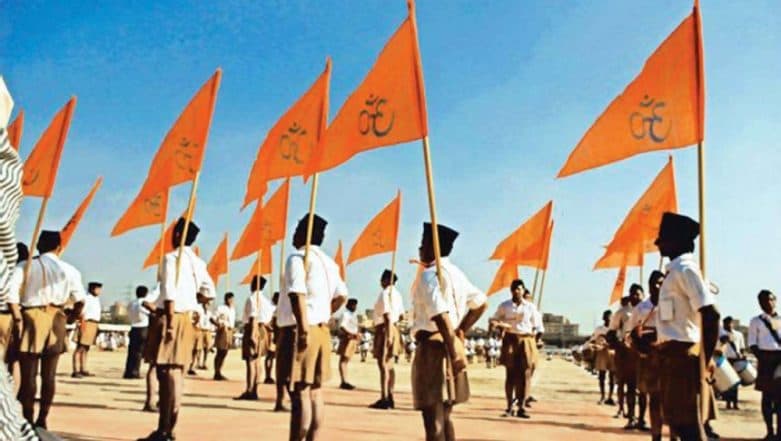 Patna, July 16: The Bihar Police was asked to collect information about office-bearers of Rashtriya Swayamsevak Sangh (RSS) and its 17 subsidiary organisations such as Vishu Hindu Parishad (VHP) and Bajrang Dal, it emerged on Tuesday. The order was issued by the Superintendent of Police (SP) of the Special Branch, Patna. The senior officer asked his deputy superintendents of police and to report back "within a week".
"Collect all details, including names, telephone numbers, professions and addresses of all office-bearers of Rashtriya Swayamsevak Sangh and 17 other associated and supporting organisations, treating it as most urgent and file the details within a week," the letter, which was issued on May 28, stated. The Special Branch briefs Bihar Chief Minister Nitish Kumar, who is also the Home Minister, on sensitive issues. BJP Shifts Back General Secretary-Organisation Ramlal to RSS, Gets Appointed As Akhil Bharatiya Sahsampark Pramukh.
Other than the RSS, the Special Branch sought details about the VHP, Bajrang Dal, Hindu Jagaran Samiti, Dharm Jagaran Samanvay Samiti, Hindu Rashtra Sena, Rashtriya Sevika Samiti, Shiksha Bharti, Muslim Rashtriya Manch, Durga Vahini, Swadeshi Jagaran Manch, Bharatiya Kisan Sangh, Bharatiya Mazdoor Sangh, Bharatiya Rail Sangh, ABVP, Akhil Bharatiya Shikshak Mahasangh, Hindu Mahasabha, Hindu Yuva Vahini and the Hindu Putra Sangh. RSS' Role in 'Nation-Building' Part of Maharashtra Varsity Syllabus.
While the Bharatiya Janata Party (BJP) said it had no information about any such directive, the Janata Dal (United) described the order as a routine exercise. "If there is such a letter it is routine. The Special Branch in any state routinely monitors every high profile organisations. What is surprising in this? It's not surveillance but a routine activity carried out by every police force in the country," JD(U) spokesperson Neeraj Kumar told The New Indian Express.
Both BJP and JD(U) are coalition partners in the state government. The RSS, however, asked about the motive behind the directive. "If it's true, what is its need? The RSS is a deshbhakt (nationalist). What is there to know about it," asked Ajit Kumar Singh, an RSS leader.