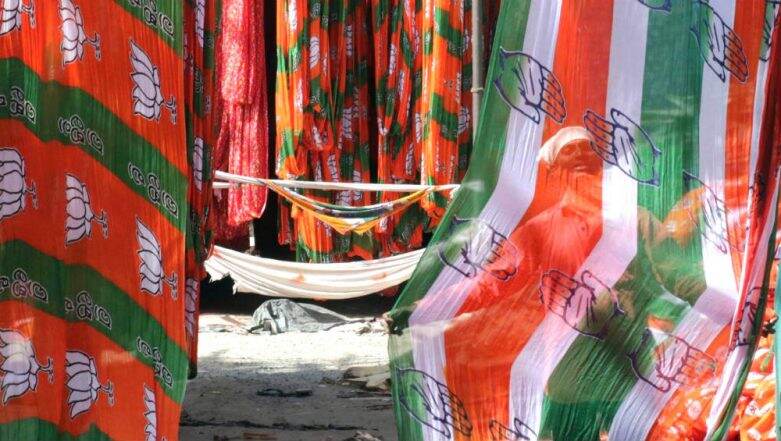 New Delhi, May 20: Reacting to exit polls which predicted a return of Narendra Modi as the prime minister, the Bharatiya Janata Party (BJP) said it expects even better results of Lok Sabha elections on May 23. The Congress, however, rubbished exit polls which favoured the BJP-led National Democratic Alliance (NDA) returning to power and said there will be a surprise on May 23 when the actual results will be declared.
BJP spokesperson Bizay Sonkar Shastri said that his party will do better than the predictions of exit polls and it would win 300 seats on its own.  "This is an exit poll, not exact poll," he said, adding that the Modi government had delivered on the ground and won people's heart with its welfare schemes. Another BJP leader GVL Narasimha Rao said this election was "a slap for the abusive Opposition that made baseless charges and pervaded lies". Exit Poll Results By All Channels For Lok Sabha Elections 2019.
Rejecting the predictions of exit polls, Congress spokesperson Rajeev Gowda said the results on May 23 would surprise the BJP. "Please wait till May 23. We will surprise you," Gowda said. "Fear is the key so a lot of people are hesitant to reveal their true choice. Let us wait for May 23, the results will be sufficiently different," he added. Congress leader PC Chacko also said that the results will be different from exit polls. West Bengal Exit Poll Results And Predictions For Lok Sabha Elections 2019.
The Aam Aadmi Party also said that exit polls had proved wrong in the past and the campaign of "TV scientists" to make the BJP win will fail. National Conference leader Omar Abdullah, however, said that all exit polls could not be wrong. "Every single exit poll can't be wrong! Time to switch off the TV, log out of social media & wait to see if the world is still spinning on its axis on the 23rd," he tweeted.
Most exit polls released on Sunday said the BJP-led NDA will retain power with Congress-led UPA expected to fall far short of numbers to reach the half-way mark in the Lok Sabha elections.