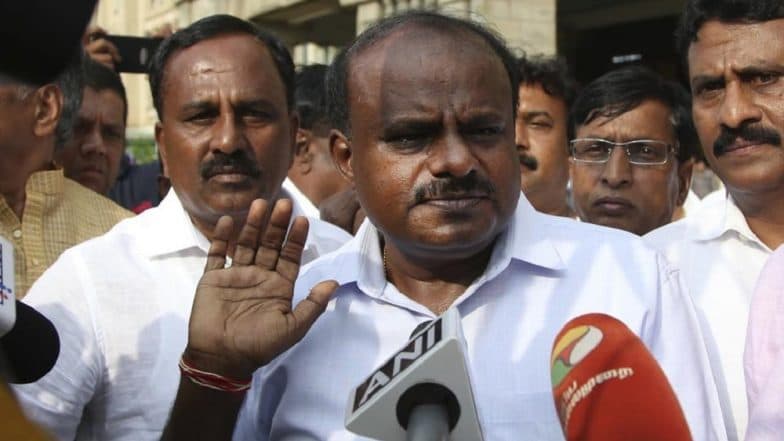 Bengaluru, February 8: Karnataka Chief Minister HD Kumaraswamy on Friday released an audio clip claiming that BJP state president BS Yeddyurappa tried to bribe Janata Dal (Secular) MLA Naganagowda Kandkur in a bid to destabilise the JD(S)-Congress coalition government. In the audio clip, Yeddyurappa was purportedly heard wooing Kandkur's son Sharana by offering Rs 25 lakh and a ministerial berth for his father.
Addressing a press conference, Kumaraswamy alleged that Yeddyurappa called Sharan early this morning, attempting to entice his father. "Without the knowledge of the prime minister, is it possible to do this," the chief minister asked, saying Prime Minister Narendra Modi should come clean on the issue. Reacting to the allegations, Yeddyurappa dismissed the audio clips as ''fake'' and "a concocted story". Karnataka Coalition Government in Minority, Claims BJP as 9 Congress MLAs Skip Assembly Session.
"It is fake audio... I have not met anyone. Kumaraswamy is trying to hide his failures. This is a drama," Yeddyurappa said. "Kumaraswamy himself is a film producer. He is an expert in voice recording.... whatever the charge he has made is baseless," Yeddyurappa said. He said the Kumaraswamy government had lost the trust of the people and had "no moral right" to continue in office.
The former chief minister of the state also dismissed a claim by the chief minister that he had spoken in the audio about a "Rs 50 crore" offer to the assembly speaker. "I will retire from politics if it (the allegation) is proved...If I had spoken like this (about the speaker), if it is proved... I will resign as an MLA and quit politics." Karnataka Political Crisis: BS Yeddyurappa Says 'Won't Destabilise Congress-JDS Coalition Government'.
Kumaraswamy had last month accused the BJP of continuing its efforts to poach MLAs and claimed that one of his party's legislators was offered a huge sum of money under the saffron party's 'Operation Kamala'. Allegations and counter-allegations of poaching erupted on January 14 when Congress leaders alleged that three of their MLAs were taken to Mumbai by the BJP in an attempt to lure them to their fold.
This was followed by two independent MLAs – R Shankar and H Nagesh – withdrawing their support from the coalition government. Meanwhile, the BJP had refuted all such allegations and asserted that legislators are trying to leave the JD(S)-Congress coalition due to internal fights.