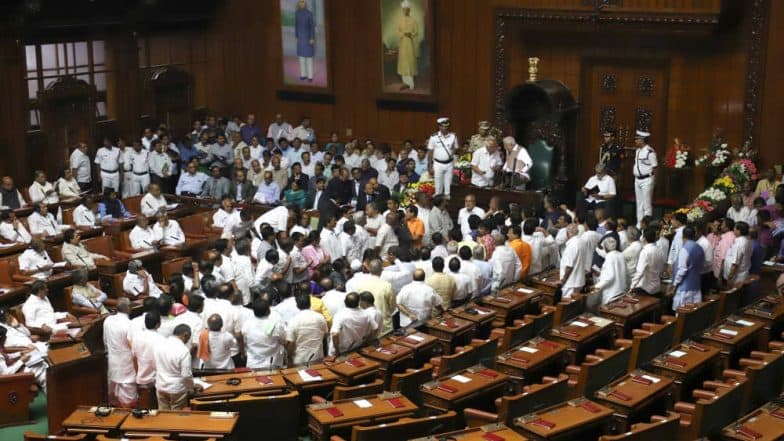 Bengaluru, February 6: Ignoring whips, as many as nine MLAs from the Congress, three from the Bharatiya Janata Party (BJP) and one from Janata Dal-Secular (JD-S) on Wednesday were found absent from assembly session, giving fresh fodder to the political crisis in Karnataka. As Congress legislatures skipped the first day of the session, the BJP claimed that the incumbent JD(S)-Congress alliance government is a minority government. The ruling coalition has been accusing the BJP of horse trading to destabilise the HD Kumaraswamy led government.
The nine Congress legislators who were absent included the four rebel MLAs -- Ramesh Jharkiholi, Mahesh Kumatalli, Umesh Jadhav and B Nagendra. "There is no government at all; there has been no development activity at all since the last five to six months which is why we boycotted the Governor's speech," BJP's Karnataka chief BS Yeddyurappa told media. He claimed that there was unrest in the Congress ranks and files, saying: "More than 20 Congress MLAs openly told in the legislature party meeting that they are not going to accept Kumaraswamy as the chief minister."
The former chief minister, however, ruled out moving a no-confidence motion. The joint session of Karnataka assembly, which was addressed by Governor Vajubhai Vala, started on a stormy note as BJP legislators disrupted the House claiming the JD-S-Congress coalition did not have the support of a majority. Governor Vajubhai Vala had to cut short his speech due to the ruckus created by unruly BJP MLAs. The BJP members later staged a walkout. Stung by the MLAs' absence, Congress Legislature Party leader and former chief minister Siddaramaiah issued another whip on Wednesday. Karnataka Political Crisis: BS Yeddyurappa Says 'Won't Destabilise Congress-JDS Coalition Government'.
CM Kumaraswamy had last month accused the BJP of continuing its efforts to poach MLAs and claimed that one of his party's legislators was offered a huge sum of money under the saffron party's 'Operation Kamala'. Allegations and counter-allegations of poaching erupted on January 14 when Congress leaders alleged that three of their MLAs were taken to Mumbai by the BJP in an attempt to lure them to their fold. This was followed by two independent MLAs – R Shankar and H Nagesh – withdrawing their support from the Congress-JD(S) coalition government in the state.
Meanwhile, the BJP had refuted all such allegations and asserted that legislators are trying to leave the JD(S)-Congress coalition due to internal fights. In the 225-member Assembly, including one nominated from the Anglo-India community, the Congress has 80, including the Speaker, JD-S 37, BJP 104 and remaining are an Independent and one each from the BSP and the KPJP.